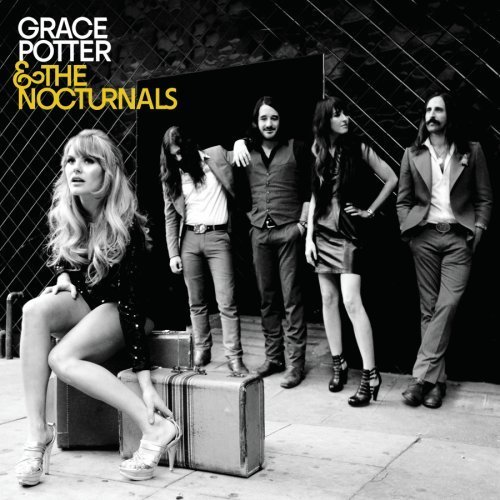 They're last album finished in the top ten of 2007. Will the latest Grace Potter and the Nocturnals album make the cut in 2010? Here's what the Twangville editors think of their new self-titled album:
---
Tom says:
The album begins with the melodic scream "Ah yeah!" a fitting way to begin their third release on Hollywood Records. Grace Potter and the Nocturnals have spent the last several years on the festival circuit blowing minds and speakers with their amplified signature sound. Let your mind imagine a cosmic creature the likes of a Tina Turner / Janice Joplin / Bonnie Raitt type and you have Grace Potter.
Familiar faces Scott Tournet (guitar) and Matt Burr (drums) continue to steer the identified flying band on their journey to the top of the charts with this self-titled album. Joining them this time are new editions Catherine Popper and Benny Yurco who help take the band to a new place. There's less of the rootsy blues that accompanied the band on their early voyages replaced with a newer jet-fueled glam rock. There's some getting used to the new sound for long time fans but probably a good thing for the band overall. You definitely get the feeling that the band is poised for super-stardom at this point.
At times the album feels like Potter is trying too hard to let listeners know that she can sing as witnessed in "Tiny Light" their first release from the album. That said, there's no mistaking a solid effort overall bolstered by performances of Tournet and Burr in songs like "Paris (Ooh La La)", "Oasis", and "Medicine". Grace Potter and the Nocturnals "got the medicine that everybody wants". Somebody call the doctor I've got GP&N fever. [★★★★/4.308]
---
Shawn says:
The new Grace Potter and the Nocturnals release starts out strong with Paris (Ooh La La) that instantly made me think of the power chord and vocal combo that made Heart such a success back in the 70's. There's a hook you just can't resist, even if you don't like power pop. Similar things can be said for Tiny Light and That Phone. Things I Never Needed is a good strong ballad, and Hot Summer Night has a funky beat and hand clap percussion that's very catchy.
Ultimately, though, this record falls short of Nothing But the Water. The grit that album had in cuts like Sweet Hands isn't there, and there's nothing as remotely funky as Toothbrush and My Table. Even lyrically the new eponymous record has nothing as emotionally engaging as Joey. In the book world, review columns are filled this time of year with "beach reads"; something engaging but not particularly memorable. This new Grace Potter release is a good beach listen. It's very enjoyable, but doesn't have the depth of her previous work.
---
Kelly says:
In the last couple of years, there has been an influx of albums that feature the pastoral, sepia-tinted, pot-scented jams that flow with a peaceful ease down the hills and paths of Laurel Canyon. That Cali-style free-love is great and all, but sometimes, you gotta just get on the strip and let loose, after the sun has dropped and freaks come out. Grip it and rip it. While Potter is from the Northeast, tracks like "Paris (Ooh La La)", "Medicine" and "Only Love" are more reminiscent drug-fueled orgies where, after the fun is done, the participants end up scoring narcotics outside of the Roxy, rather than basking in a breezy, sun-baked field while harmonizing with your best friends. There's a big difference between functioning as a jam-band and being a band that really jams. Grace Potter and her Nocturnals have turned in a record that proves they are the latter.
---
BONUS GIVEAWAY: I'm offering up my review copy of this album to the first to comment on this post. Who will be first?
---
About the author:
Washington, D.C. area web designer by day. Music is my muse. I host Twangville's weekly Readers' Pick.
---