Woody Guthrie famously wrote "This Machine Kills Fascists" on his guitar. He and his protege, Pete Seeger, composed and sang protest songs that wore their emotions on their sleeve.  There's not much confusion about Woody's views in This Land Is Your Land.  And don't get me started about Old Man Trump.  The other kind of protest song is rooted more in irony.  You blithely go along with the premise on the surface until somewhere down the road, well after you're committed, you get the more subtle meaning.  That path of subtlety is what Rachel Baiman has chosen to follow on her recent release, Shame.
 Musically Baiman, and producer Andrew Marlin of Mandolin Orange, have chosen to enrich the CD with layers of texture that somehow come together in a clean, simple, at times even plaintive, sound that reminds me of Gillian Welch or the Stray Birds.  Take the title track, a commentary on judgement in the name of religion.  Until you listen closely, it seems like it's just Baiman's vocal and a banjo.  Similarly, Wicked Spell delivers a Welch-like hollowness that echoes the importance of Rawlins' guitar as an essential element to the vocal magic.  Take A Stand makes its point about child abuse with the only use of electric guitar on the record to portray the built up anger.
Several of the songs inspire a happier point of view on the world.  Getting Ready To Start could be the national anthem of people who refuse to do the hard thing and substitute the journey of the moment for a commitment to a dream.  Let Them Go To Heaven is a remake of an Ismael Reed poem that feature Josh Oliver on piano.  It's an ode to realizing that life can be about the journey so, "spare me from perfection, bring on that scratchy fiddle."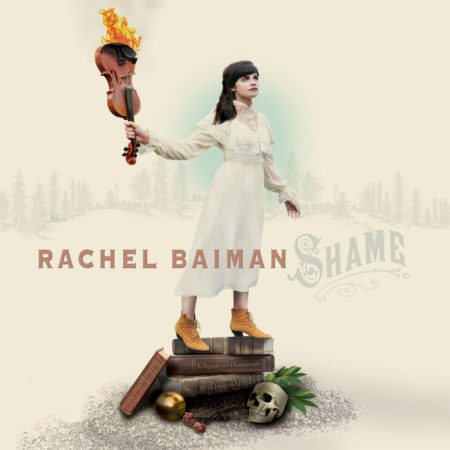 Shame is appealing on multiple levels.  If you like an intellectual bent to your lyrics, you'll have several songs on repeat.  Or maybe good, well produced and crafted acoustic music with a catchy beat is more your thing.  Shame has you covered.  All in all, it's just hard to go wrong with this album.
---
About the author:
Support new music. Listen to a band or singer you've never heard of this week. I've been doing that for over 30 years.
---