Some musicians like to master their genre.  Some like to push the boundaries of a genre.  Others thrive by crossing genres.  You can count Phoebe Hunt in that last category.  Her musical arc started with the Texas swing and big band-influenced country of The Belleville Outfit, swung across her fiddle and vocal prowess collaborations with Connor Forsythe, and on her latest album with now-New-York-based The Gatherers she's exploring Celtic, Eastern European and classical influences.
There's a lot of yin and yang on Shanti's Shadow.  Linthead Gal is what I think of as a Phoebe Hunt song with it's foot-tapping tempo and independence-minded story of a woman who "ain't gonna be no farmer's wife, I'm picking up and moving to the city."  Contrast that with New York, where self-doubt creeps in and she wonders, "will it suck me up, will it leave me dry?"  Take Me Home is a classically influenced, soaring vocal song that pleads "my soul's crying take me home", with a seamless transition into Call My Bluff about being from a broken home; the last place you'd want to go.
Round And Around hugs to Hunt's Texas roots with a  waltz featuring her on fiddle and her husband, Dominick Leslie, on mandolin.  Pink And Blue is about as upbeat a song as you can get with the theme of picking at an emotional scab.  The album finishes with I Really Love, a beautiful piece about appreciating the simple things in life, whether that's just spacing out for an hour, the water in the shower, or especially the joy of singing.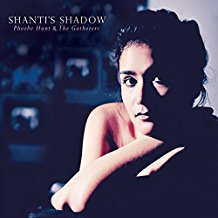 If you're already a Phoebe Hunt fan, Shanti's Shadow will give you even more material to love.  If you're new to her music, this is the chance to start a musical journey with someone who just keeps getting better and better as she expands her musical horizons.
---
About the author:
Support new music. Listen to a band or singer you've never heard of this week. I've been doing that for over 30 years.
---