Girls Guns and Glory at The Sinclair
Cambridge, MA; January 14, 2017
To see Ward Hayden come out on the stage at the Sinclair, you'd have no idea that he was from Scituate, Massachusetts. His new record, with his face on it, implies a more introspective view of the music. And Hayden's entrance in a rhinestone suit created by Graham Parsons' legendary tailor felt almost like a second coming. Hayden, while clearly a fan of rock and roll, loves to explore classic country in a way not seen in the Boston area.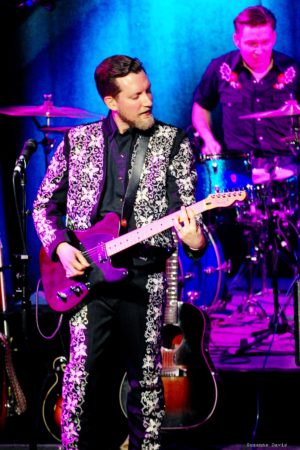 Listening to Girls, Guns, and Glory's new album "Love and Protest," I was ready for a rock show with some country elements. Duke Levine picked up the slack on the new record. The first surprise of the night was new guitarist Cody Nilsen. He put his mark on the songs and stepped in to replace Chris Hersch. Nilsen took the reigns and pulled out his new pedal steel to great effect.
Even more surprising, I found the encore when Ward Hayden said, "We're about to get crazy . . . for us." Turned out that meant that the band was going to switch instruments and try their hands at a bluegrass tune (written by Mickey Newbury) called "Why You Been Gone So Long." Paul Dilley, bass player who can "do it all", switched to guitar and vocals, Ward took over the base, Josh Kiggans went from drums to Mandolin and Cody Nilsen  tried his hands at Dobro. I was shocked with the authenticity of the tune. If they've got any other tunes like this, it's not a stretch to say they could moonlight on the bluegrass festival circuit. This lineup, particularly for Nilsen on dobro, was shockingly good. Spot on harmonies, Paul Dilley's flat picking, and not a bad bassline to boot.
Here's hoping the band keeps expanding in all directions. Nilsen's guitar work on "Rock & Roll," pedal steel, and dobro complimented the band. Here's hoping they keep expanding in all directions and go where the country muse takes them. We at Twangville are excited to hear the next time they "go crazy."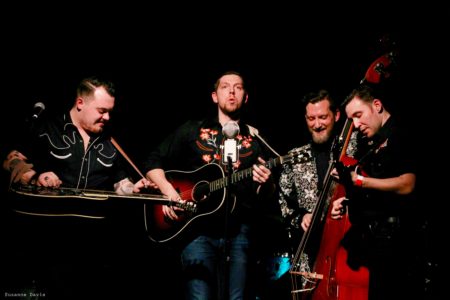 Photos by Suzanne McMahon (Suzanne Davis Photography)
---
About the author:
Jeff is a teacher in the Boston area. When not buried correcting papers, Jeff can be found plucking various stringed instruments and listening to all types of americana music.
---