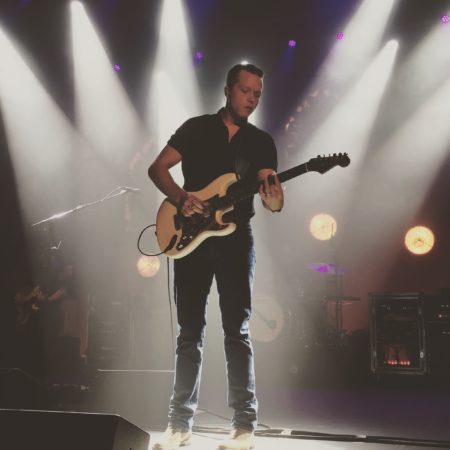 Photo by Darren Woodlief
The first big concert I remember attending, besides a church revival or Fifth Sunday Night Singing, was Charlie Daniels at the Peach Festival in Gaffney, SC with the Pirates of the Mississippi opening.  I was around 14 years old and my dad took me.  It was a great time and I remember being in awe when Charlie brought out his golden fiddle to play the part of the devil in "The Devil Went Down to Georgia."
This past Sunday night I took my 9 year old daughter to the Jason Isbell show where she got to see him wield his Gibson goldtop (among many other guitars) through a set of songs leaning heavily from his latest two records Something More Than Free and Southeastern.  The band was tight and played a good 20 songs over the evening, and it was a totally different Isbell show than my previous Isbell outing a few years back in a club that held 150 people max. (I beat him at pool at that show, and really wanted to slip him one of my band's CDs, but didn't.)
Seeing Isbell & the 400 Unit in this 3,000 capacity setting felt a little odd.  The venue was far from sold out, but had a respectable crowd filled with a good range of ages and the stage backdrop of stain-glassed windows and backlighting was amazing with a light show that was on point.  However, spontaneity and smiles were at a minimum and the band stopped after each song to switch out guitars, tune-up or take a swig of sweet tea.  Don't get me wrong, I was silently singing along (not out loud and out of key like the woman behind me) to almost every song, bobbing my head and loving every minute of the show, I just didn't get the "rock show chills" until the double Les Paul attack of "Never Gonna Change" kicked in.  Throughout the night Jason barely cracked a smile, save for when keyboardist Derry DeBorja brought out the accordion for the crowd favorite "Codeine." He even mentioned it was his favorite part of the show and you could tell!
One of my friends mentioned that Isbell was "at the top of his powers" at the moment, and I have to agree.  The last two albums are phenomenal and some of the best songwriting of this era.  I guess I just like my rock shows to be a little more reckless, and I have to think that maybe he's still getting the hang of performing sober.  He just seemed a little uncomfortable on the big stage and who can blame him?
On the way home from the show, my daughter stated, "I thought he was really good.  And he's kind of, how do you say it, buff?  I wasn't sure if that was his veins or a tattoo on his arm."  She also requested "24 Frames" on the way to school the next morning, and asked me what Jason's baby's name was, so I guess she does pay attention to what dad plays in the car.  I told her I was glad that her first show was one of her dad's favorite songwriters and I hope that one day she'll look back on it in awe as I do with that golden fiddle.
---
About the author:
To change this standard text, you have to enter some information about your self in the
Dashboard
->
Users
->
Your Profile
box.
---