When I first ran across Katie Glassman a couple of years ago (review here), I noted her album was exploring a lot of genres.  Her latest release, Dream A Little Dream, hit the streets earlier this week featuring her now-permanent band, Snapshot.  She's taken a significant step forward as a recording artist with this project.  While still dipping into all kinds of music that touch jazz and country, there's a cohesion to the album that keeps things flowing from one song to the next and lights up the overall effort.
Glassman is perhaps the queen of modern fiddle players, having won just about every fiddle playing championship west of the Mississippi worth winning.  With Snapshot, she's surrounding herself with musicians of like skill and, perhaps more importantly, mindset.  It just seems the whole band is bent on cutting a new swathe down the western swing musical prairie.  The opening number, Liza Jane, sets the mood appropriately with piano, bass, and fiddle combining with Glassman's vocals to take the piece to a place Bob Wills never even dreamed of reaching.  My Window Faces the South pursues this as well with some sweet accordion parts and guest Tim O'Brien on vocals.  In case you think a youngster doesn't realize where their roots come from, there's a super take on the Duke Ellington number, Jubilee Stomp.
Glassman's vocals carry some of the other songs on the album, where the sound is a little more traditional.  I could totally hear Patsy Cline in Good Times Gone By, and Sweet Lies is a nice country ballad with just a touch of blues to color it.  Little Dream Of MIne is an accordion accented country waltz.  As you would expect, there are also a few instrumental pieces that showcase the musicianship of all the band members, including Rutland's Reel and Pampas Envy.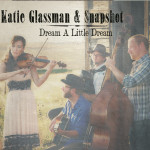 With spring finally just around the corner, it's time to think about what's going to be on your playlist for those first warm nights in the backyard.  You'd be hard pressed to find something more in line with that elevated mood than Dream A Little Dream.
---
About the author:
Support new music. Listen to a band or singer you've never heard of this week. I've been doing that for over 30 years.
---