In general I have to say I'm really not one of those people who believe in reincarnation.  Yet when I listen to Raul Malo out in front of The Mavericks I feel like I"m channeling some lonely young woman socialite in pre-revolutionary Havana.  Malo's voice is just so….dreamy.  And the band's sound is just so….timeless.  It's all gowns and white gloves and dancing the night away, but with an undercurrent of bootleg rum, Elvis Presley, and uprising in the air.  You just know you must enjoy the moment to its fullest because tomorrow may change everything.
It's been 8 years since the last record from the band and In Time is probably everything you would expect if it had been more like 8 months.  The Voice, the horns, and the electric guitars are all there.  I suppose that combination of instruments dates back to Doug Sahm and the Sir Douglas Quintet.  Aside from The Mavericks and Calexico, though, there's still almost no one taking advantage of the great sound they create together.
Many of the songs on the album are the mix of salsa (samba? Cubano? I don't know my Latin genres very well), country and rock-and-roll that makes The Mavericks so unique and their sound so quickly identifiable.    Back In Your Arms Again, Lies, Fall Apart and Come Unto Me all fall into that category, as well as a separate Spanish language version of Come Unto Me.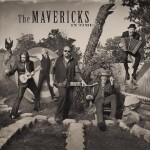 What makes the record special, though, is several cuts where the band pushes at the corners of their typical sound.  That's Not My Name is a Patsy Clink-like waltz from the golden age of country music.  As Long As There's Loving Tonight is a rockabilly piece that Brian Setzer really needs to cover.  Finally, there's Call Me When You Get To Heaven, featuring the mythical McCrary Sisters, that builds to a long crescendo finish like a Latino Hey Jude.
If you're already a Mavericks fan you'll no doubt love this In Time.  It's good.  And if you didn't get a chance to become a fan the first time around here's your opportunity to pick up where you never started.
---
About the author:
Support new music. Listen to a band or singer you've never heard of this week. I've been doing that for over 30 years.
---