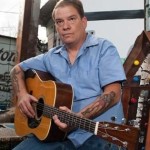 "Ride", the new release from Wayne Hancock, exhibits a little less of his customary Juke Joint Jive. Hank Williams style lonesome Blues is more prevalent on the album. However, Hancock still knows how to swing. Since we last heard him on 2009's "Viper of Melody", Hancock has gone through a divorce and sobered up. In Country music a woman leaving doesn't normally lead to sobriety, but it seems to have worked for the man known as "The Train". (Instead of drinking songs we now have "Cappuccino Boogie".) There is also a new love in his life. The title cut describes this new love, motorcycles. "Ride" is one of the songs that swings on this album, as does "Deal Gone Down", a song of revenge.
The more restrained Country Blues songs give "Ride" a very personal feel. On these songs, Hancock is singing from the gut. However, he doesn't get lost in his heartache. These tunes heal. They show a man moving through his pain, instead of wallowing in it. Through it all, Hancock has not lost site of his mission to be a preservationist of true Country music. To that end, he enlisted his usual cohorts in crime to join him in the recording studio. Most notably he continues his partnership with Lloyd Maines, who co-produced the project.
It is good to have Wayne Hancock back, and even better to see that he is still carrying the flag of "real" Country music.
---
About the author:
Chip and his family live in Birmingham, AL. Roll Tide!
---