From the first few notes his 12-string, I could tell that this would be a treat. A seasoned performer with over 20 years on the road, McMurtry had the kind of stage presence that you can't get after a few years. And he had the kind of storytelling chops that an English Professor mother and Pulitzer-Prize winning father will give you. The songs sometimes fade into stories but they're interesting and engaging and always come back to a melody line. And he played his 12-string, my did he play it.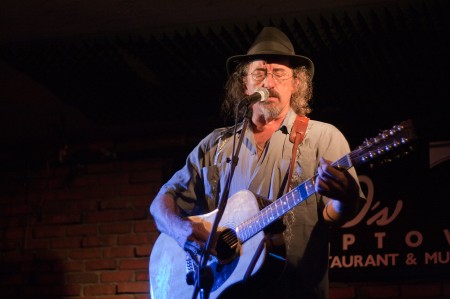 Take "We Can't Make It Here Anymore." It's a song that changes from a catchy chorus to a spoken verse. And McMurtry's drawl is just the same. Drips with his Texan authenticity. Even more likable was "Ruby and Carlos." This one has that certain tone in McMurtry's voice. It manages to drip with his southern accent and yet drives toward an emotion in the chorus. It has the feel of a long lost lover. It could be a short story.
I was waiting to see when McMurtry would pick his 6 string up again and drop his 12. But he didn't and I became a new believer in its possibility. It sounds like two very in-tuned harmonized guitars. On "Hurricane Party," McMurtry gives an interesting read on the mindset of a hurricane. McMurtry sees all of the outside choas but the chorus responds "There's no one to talk to / When the lines go down." He then goes into a series of stories about his long lost love. It's about loneliness about the end of the party, not about the storm.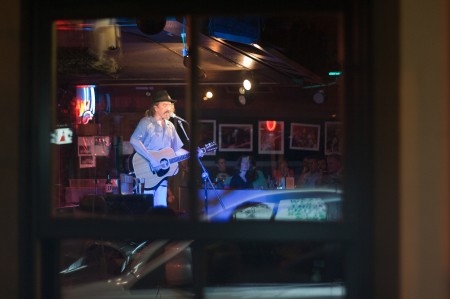 Another gem "Down Across the Delaware" got the show on track. It was full of literary images. The picked guitar lines are live and musical while McMurtry's voice enunciates every word carefully. The phrasing is never too full. Each word matters. It's as though the images here paint a downtrodden soul leaving for the winter. Another tune that could easily set the stage for a longer story.
The show was full of tunes like this. As relative newbie to McMurtry, I was stunned at how the songs took on a completely new life in an acoustic setting. James McMurtry knows how to bring life to the mundane in front of 50 somethings, in a little club outside of Boston. James had no problem with the size of the crowd and we all mutually enjoyed the show and the knowledge that what we'd seen was a true meeting of southern literate songwriting. Won't miss him next time around, even on a school night.
Photos by Jesse Stansfield.
---
About the author:
Jeff is a teacher in the Boston area. When not buried correcting papers, Jeff can be found plucking various stringed instruments and listening to all types of americana music.
---