More a legend than a band.  That phrase was first coined a couple of decades ago about a set of 4 guys from West Texas, the Flatlanders.  But it could apply equally to a group of 4 young women, The Trishas.  First performing together as a hastily arranged act as part of a tribute to band member Savannah Welch's dad Kevin, they quickly became a hot ticket, performing with Raul Malo, Todd Snider, The Nitty Gritty Dirt Band, and Ray Wylie Hubbard.  Three years after that fateful gig, The Trishas have released their first full length album, High, Wide and Handsome.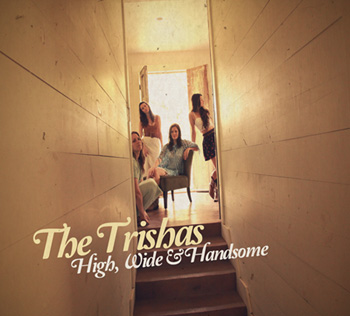 Although all four members are quality instrumentalists, this record showcases their vocals and harmonies.  It opens with Mother of Invention and sets the tone for the rest of the songs with every member singing on just about every number.  The harmonies really come together on some of the simpler arrangements, like Gold & Silver, and a sweet little country waltz Liars & Fools and its commentary on personalities.  The latter highlights the songwriting skills evident throughout the album, in this case with co-writer Jason Eady.  Kevin Welch, Bruce Robison, and Jim Lauderdale also contribute their co-writing efforts.  Make no mistake, though, these are The Trishas songs.
From a stylistic point of view, High, Wide and Handsome would be hard to categorize as much besides a country album.  But there are subtle influences of other genres: the bluesy, Billie Holiday inspired Rainin' Inside, the funky/swampy John Wayne Cowboy, and the dark jazzy beat of Cold Blooded Love.  Together those influences keep the project from being a one note effort and make for a well rounded trip though the playlist.
That this is the first full release from The Trishas is a little misleading.  They have a tightness and self-confident style that comes from performing and learning from some of the best in the business.  Even their list of studio musicians is A-list.  So you may as well hop on the bandwagon and hear what The Trishas are all about.
---
About the author:
Support new music. Listen to a band or singer you've never heard of this week. I've been doing that for over 30 years.
---