by Eli Petersen in Reviews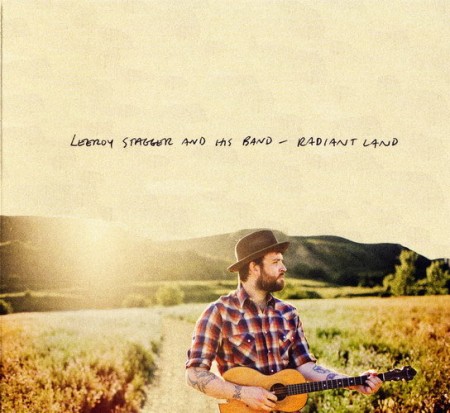 Leeroy Stagger is a Twangville artist. What makes an musician a Twangville artist you may ask? In my mind, it's an artist we here at Twangville think (a) is awesome and (b) should be appreciated by a greater number of people. Stagger is perhaps the epitome of such an artist. A Canadian singer songwriter who rarely tours the States (he seems to prefer his homeland and Europe), Stagger plays a style of music that I once referred to as "a combination of Neil Young, Steve Earle, the Drive-By Truckers, and all that is holy in this world." I wrote about him in 2008, 2009, 2010, 2011, and now in 2012. All of which makes it a little odd that Radiant Land failed to grab me on first listen. I liked the opening track "Dirty Windshields", but the rest of the record failed to click. I could blame myself for this lapse, but I think I'll just blame Stagger instead.
Not that it's really his fault, but for whatever reason I kept trying to listen to this record in the morning and I really think it's a nighttime record (with the exception of "Dirty Windshields", which is a perfect road song for any occasion). With song titles like "Nighttime Talks to Me", this should hardly come as a surprise. Down-tempo ballads like "Maria" and "For the Love of You" are classic Stagger songs, but best listened to in the black of night with Old #7 close at hand. Even the rockers that help close the record, "Capitalism Must Die!" and the crazy horse squall "Summer Storm", are angry songs meant to help soothe the wounds of the day.
Another reason for my initial ambivalence may be the 'maturity' of this record. Radiant Land is Stagger's first record with Gold Lake Records/ Universal Music Canada. It has an assured sound of a man that knows where he is going and how he is going to get there. Songs like "Enough Love to Go Around" and "Message of Love" are a new type of Stagger compositions that have popped up over his last couple of records that suggest a new sense of direction. These are songs that emphasize his new message that "love and understanding will right the wrongs of the world."
None of this should suggest that Stagger has grown complacent and pampered. Radiant Land was recorded in a scant three days between touring dates and has the same flash of fire in the pan sound that blew me away on 2006′s Depression River. Furthermore, Stagger also continues his Guthrie-esque political-topical songwriting streak the title track as well as the aforementioned execution of capitalism.
So whatever my initial issues with Radiant Land were, they are largely irrelevant at this point. Its another excellent addition to the Stagger canon. The more I listen to it, the more I like it and that might be the best compliment you can pay to a record.
---
About the author:
Specializes in Dead, Drunk, and Nakedness..... Former College Radio DJ and Current Craft Beer Nerd
---