by Eli Petersen in Reviews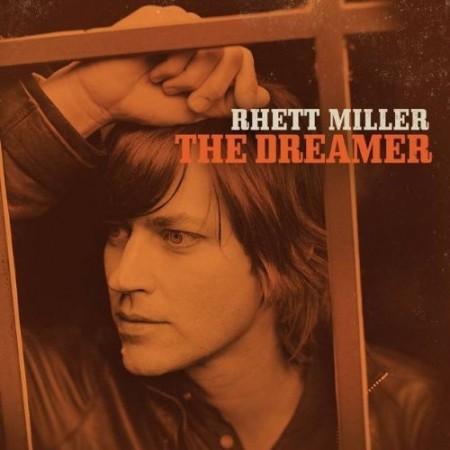 The Dreamer may be my favorite Rhett Miller solo record since his solo "debut" The Instigator. Released back in 2002, The Instigator was produced by Jon Brion and received a fair bit of critical acclaim and even some radio play. It's still one of my favorite records to spin for those uninitiated to the cult of Rhett and his Old 97's. Songs like "Come Around", "Our Love", "Point Shirley", and "Your Nervous Heart" were both quintessential Rhett Miller lyrics and instantly infectious. While I don't think The Dreamer can contend with The Instigator's pop rock mastery, I do think it may be the stronger record. I say this based only on my own personal opinion after a dozen or so listens. I base this highly unanalytical opinion on 'the ease' with which Miller cruises through the record's 13 songs, like a man hitting the highway with the windows down and nothing but open road ahead.
This 'ease', whether actual or just my own fictitious construct, comes from two elements. The first of which is the prominence of the acoustic guitar in all the songs. This is in contrast to the more produced nature of Miller's other solo records. Now, I'm not saying that The Dreamer doesn't have its share of keys, strings, and hand claps, but the emphasis of the sound, at its center, is on the acoustic guitar. This makes the record sound more organic, as if it could have been recorded in your living room (something it shares with the rough and tumble sound of The Instigator).
The second element that leads me to my 'ease' assessment of The Dreamer is the songs themselves and more specifically the vocal melodies in the songs. To put it simply and somewhat stupidly, they sound like Rhett Miller. Solo and with the Old 97's, Miller has always been at this best when he's spitting out lyrics and charming you with his wit. It may just be me, but this set of songs sounds more like Old 97's material than a lot of his past solo records. None of which is to say that The Dreamer is a solo record in name only. It is definitively a solo project with its own sound and identity. But, these songs are in Rhett's wheel house and the record sounds like it.
Here are some of my favorites.
"Lost Without You" opens the record an ebullient chorus "yeah, I'm lost without you/ its all coming to me now…" and also features some other classic Rhett Miller lines:
"I was working on a bottle of wine when she pull up outside/ she was glowing like an Open sign on a place I'd never tried/ so I told her my life through the course of the night/ she was not like the rest, until she left"
"Sleepwalkin'" follows "Out of Love" and may be my favorite song on the record. The song was written by Miller based on a picture of a woman he saw in an alternative weekly. The song tells the story of their entire theoretical relationship in a little under 4 minutes. Miller has lots of pun fun with his references to "my genius" as the woman in the picture had won a Genius Award for directing an indie film.
"Marina" pops up later in the album, but is another of my favorite tracks. An acoustic ballad in the vein of "Question," the song is a beautiful, but certainly a bit more complex than "Question." The song is classic Miller. He makes clever use of the marina word play (both as a woman's name and as a nautical port), but still manages to tug on the heart strings.
"Sweet Dreams" closes the record and features a gleeful vocal and some splashy lead guitar work. A fitting closer to a record that never veers from its intended destination.
---
About the author:
Specializes in Dead, Drunk, and Nakedness..... Former College Radio DJ and Current Craft Beer Nerd
---