Sometimes a record has such a clear vision and superior execution that a review just writes itself. That's pretty much the case with Bill Evans newest project, In Good Company.  Long before he, literally, wrote the book on how to play the banjo, Evans was studying with the likes of J.D. Crowe and teaching music at San Francisco State, Duke, and the University of Virginia.  He also gave individual music lessons to students like Chris Pandolfi of The Infamous Stringdusters and Greg Lizst of Crooked Still.  Oh, and he toured and played with David Grisman, Tony Trischka, Peter Rowan, and many others.  So when he decided to do an album with friends, well, "in good company" is an understatement.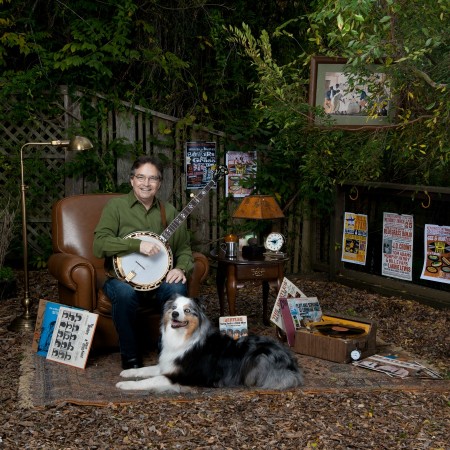 The record starts with The Distance Between Two Points, a song-writing collaboration with his daughter Corey.  The first notes are just Bill on his banjo, but before long other musicians have joined in, one by one.  They include  Todd Phillips on bass, Mike Marshall on mandolin, David Grier on guitar , and Darol Anger and the Clarridges on fiddle.  It finishes as a spectacle of bluegrass instrumental solo and harmony virtuosity.  Other guests include Tim O'Brien and Laurie Lewis on Follow the Drinking Gourd, The Infamous Stringdusters on Walk To the Water, and Joy Kills Sorrow on On And On.
Evans doesn't just borrow musicians to play with him on the project, he also borrows a few songs.  Most notably, he covers four Lennon & McCartney tunes in a sort of medley near the end of the album.  It's hard to say which one of those I liked best.  Mother Nature's Son is a gentle, sway-in-your-chair cover with Tristan Clarridge's cello adding just the right bit of classical to an otherwise pure folk arrangement.  You've Got To Hide Your Love Away ebbs and flows more than the original, and I enjoyed the difference.  Lucy In the Sky With Diamonds, geez, how can you not like a banjo playing the lead on that.  The set finishes with A Hard Day's Night.  A strike on a banjo doesn't quite give you the same jolt at the beginning that Harrison did with his electric guitar, but from there  it goes into a breakneck bluegrass romp that's just infectious.
There's so much to like on this album.  Different genres of music, incredible solos, vocal and instrumental harmonies, original songs and covers.  The one thing that ties them all together is the banjo of Bill Evans.  If you're a fan of Evans, you'll certainly like In Good Company.  If you're not familiar with his work, this is a good primer and worth adding at least a couple of songs to your musical library.
---
About the author:
Support new music. Listen to a band or singer you've never heard of this week. I've been doing that for over 30 years.
---