by Jeff McMahon in Reviews
The idea of bluegrass supergroup may seem foreign to some, hell even most music fans. But the band Barnstar! didn't listen to that. They threw caution to the wind and pulled together some of the most respected indie musicians and bluegrass players in the Boston area. And between their other obligations, they have managed to play some awesome bluegrass shows. Best I've seen in New England.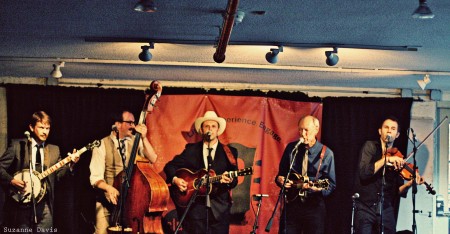 So yeah, I think the idea of a bluegrass supergroup is feasible even in New England (as long as you have respect for talented indie musicians). To cap off their first weekend tour, I had the pleasure of catching the group at Club Passim in Cambridge, MA. Let me first say that I've seen or heard all of the musicians in some capacity before save the father son bluegrass tandem of Taylor and Jake Armerding. Taylor's unmistakable bluegrass songwriting and the simple and affecting "Northern Rail" showed me that this wasn't some bluegrass cover band. This was a band with real bluegrass chops.
I was already familiar with Mark Erelli's tunes. I'd seen him play solo a few years ago in an intimate setting. But I honestly have a brand new appreciation for him. I always enjoyed his voice and songwriting, but when he played "Darlin'" by Josh Ritter. I really enjoyed Mark Erelli's prowess as a performing singer. The band's harmonies on the chorus are so simple yet so powerful. In particular, Jake Armerding's fiddle gives the song a uniquely heartbroken quality, even more emotional than the original.
All night, the band seemed tighter than ever. Their "tour" through New England for the weekend clearly did them some good. They blew through instrumentals and breaks without  any trouble. Charlie Rose (who has played with Low Anthem) gave a shout out to his banjo students at Club Passim. He's definitely an accomplished picker and he's continuing to stretch as a player within the band as well. The band's heart (and rhythm section), Zach Hickman provided both comedy and chops on his double-bass as well.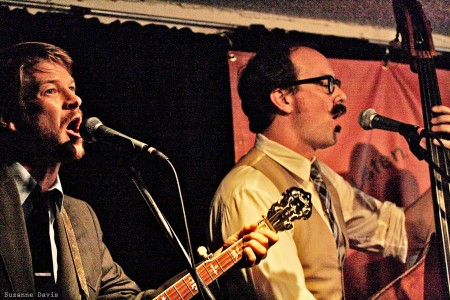 The band's entrance really told the story. They came out dressed in shirts & ties and Mark Erelli had his cowboy hat on. There was plenty of joking but plenty of picking as well. The band members really seemed to grow into their roles. In particular, Erelli's voice was a focal point for the band. A few nights in a row and a bluegrass band really took flight. I could have been in a pickin' parlor below the Mason Dixon Line and I wouldn't have known the difference.
Photos by Suzanne Davis McMahon
---
About the author:
Jeff is a teacher in the Boston area. When not buried correcting papers, Jeff can be found plucking various stringed instruments and listening to all types of americana music.
---