When I heard about a one-off Jason Isbell & Amanda Shires show, three hours of driving on a Friday night didn't seem that bad. There's something different about a rock artist who slows down to let the songs shine through. Isbell has done the rock gig with the Drive-by Truckers, the solo gig, and the country band gig. When he plays by himself there's an intimacy in the show. But throw in Amanda Shires fiddle and her own opening slot to boot, I knew this was not to be missed. And the setting, which felt like a high school auditorium and a few hundred dedicated fans appreciated the depth and breadth of the show.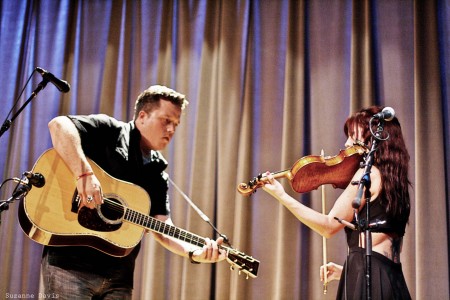 Jason Isbell has come a long way. I was shocked when he left the Drive-by Truckers and dubious that he would be able to come out from behind their shadow. But the power of his songs, particularly in a spare setting, shows a growing confidence. Isbell has become a formidable singer/songwriter who is not afraid to let his songs stand naked and vulnerable.
Isbell did not shy away from his classic truckers material, and I found myself marveling at the new depth of the songs. In particular "Outfit" had a deeper resonance when you could clearly hear "Six months in a St. Florian foundry, they call it Industrial Park. / Then hospital maintenance and Tech School just to memorize Frigidaire parts. / But I got to missing your Mama and I got to missing you too.  / So I went back to painting for my old man and I guess that's what I'll always do." Isbell's delivery of this classic truckers tune is deadpan and the lyrics feel so natural. Is he singing about his own life or not? I'd honestly rather not know because it feels so authentic. In this setting, the tune showcases Isbell's power and authenticity as a songwriter and storyteller.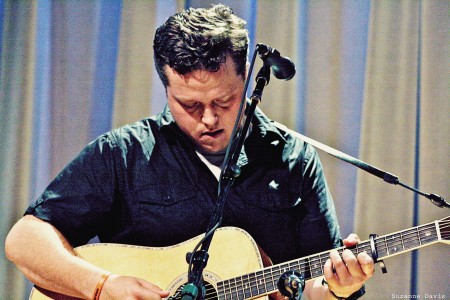 Isbell's setlist displayed the many facets of his career. His solo material is a natural fit in the acoustic setting, particularly with Amanda Shires on the fiddle. "In a Razor Town" and "the Magician" showed Isbell's unadorned storytelling narrative prowess. They're a bit less southern in feel but just as compelling. From the new album, "Alabama Pines" and "Codeine" show a decidedly more country leaning. They wouldn't be the same without that whiney fiddle and harmony. It's these songs in particular that remind me of my favorite concert of all time, Gillian Welch & David Rawlings at Strathmore. Jason Isbell with Amanda Shires playing these country tunes sound like they were born to do it.
For the first time playing completely solo, Amanda Shires and her ukulele showed an intimate side of her tunes. "Mineral Wells" was a particularly strong tune from Shires' past. Equally powerful were stripped down versions of "Swimmer . . .," "Lovesick, I Remain," and "When You Need a Train It Never Comes" from her album "Carrying Lightning." Mind you, there's not a lot to strip but the austere versions of the songs sound natural. Amanda was clearly getting used to the solo stage without a partner to bounce ideas off. The music was moving and powerful in its simplicity.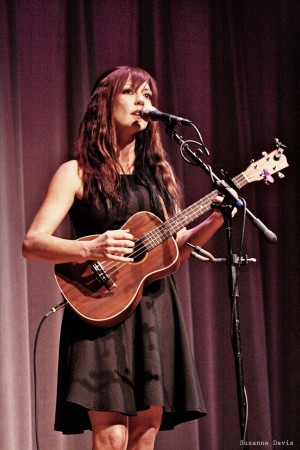 Its a rare thing to get two songwriters who complement each other so well. Jason Isbell and Amanda Shires delivered two stunning sets worth of brilliant performances. Their stripped down songs brought out new layers of meaning but stayed true to the original (in particular Shires' fiddle). Isbell and Shires have been able to put put their musical pieces together to create one of the most intense live shows to the stage. I was lucky to catch this one.
Photos by Suzanne Davis McMahon
---
About the author:
Jeff is a teacher in the Boston area. When not buried correcting papers, Jeff can be found plucking various stringed instruments and listening to all types of americana music.
---