One of the great things about creative people is they don't appreciate boundaries the same way we ordinary sods do.  I think you see this a lot with musicians, especially the younger ones.  There's nothing wrong with combining Tim O'Brien inspired licks with a Radiohead song, for instance.  The latest example of this I've heard is the debut release from Austin teenager Ruby Jane, entitled Celebrity (Empire of Emptiness).  She smoothly integrates her award-winning fiddle prowess with a variety of pop and rock influences that deliver a singular sound that's hard not to appreciate.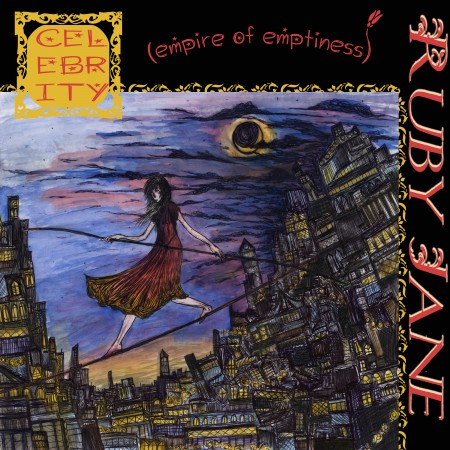 The disc opens with The Innocents, a nice acoustic piece that sets a good tone for the release.  Next up though is XXVII, a sort-of shared sympathetic piece for Amy Winehouse.  With the line of "don't lose your mind, you're only 27", Ruby Jane perhaps had the upper hand on maturity.  But the real gem on this tune is the ending where Ruby delivers a Flight Of the Bumblebee dizzying, frantic fiddle solo that says far more about a troubled soul than any lyrics could ever express.
From there the album picks up more of a rock tempo on City of Angels and I Am Trying To Break Your Heart, much of it courtesy of guitar player Trevor LaBonte.  If you were ever a fan of Kansas before they got pretentious, you need to check out those two songs.  Then, in an unexpected turn kind of way, is Your Song.  I almost don't know how to describe it except maybe as a light-hearted ditty.  But it's really contagious, and you can indeed sing along no matter what your mood.  My favorite line is "this song is for flipping off your boss."  Give someone an iPod and the right situation and, well, there you go.
The album finishes with a couple of more songs leaning toward the rock genre, including the title track and unquestionably my favorite song on the album, Intrepid.  The back cover says Intrepid is a bonus track.  I don't know if that means it's only on the disc and not available for download, but if that's the case pay the extra money and get the physical CD.  Intrepid is like Jean Luc Ponty playing fiddle with Jeff Beck on Freeway Jam.  I know that's an obscure reference for anyone who's not a fan of 70's guitar gods, but it's jazz and rock combined at a spiritual level.  It is literally one of my favorite instrumental songs from the last several years.  So Ruby Jane keep pushing, and ignoring, those boundaries.
---
About the author:
Support new music. Listen to a band or singer you've never heard of this week. I've been doing that for over 30 years.
---