At a college neighborhood near Boston, Justin Townes Earle seemed a bit different again. He has gone through so many phases in his life and music it's tough to figure him out. I'll always yearn for the simplicity of Yuma and his first live performance opening for Ron Sexsmith back in the day. At the time, he was just Steve Earle's son. What a difference a few years makes. That was back in 2008. From then until now his flat-picked bluegrass guitar style has highlighted the best tracks.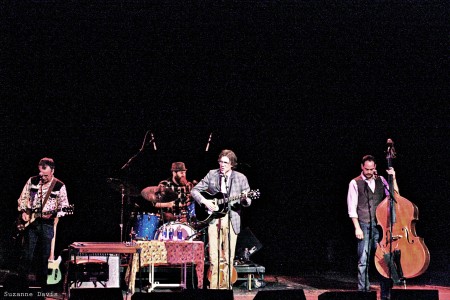 But lately, JT Earle's most impressive feature has been his voice. A bluesy timbre, a country swoon and soulful vocal could all be used to describe his new style on a song here and there. At each of the most recent concerts, his voice has seemed to grow in power and confidence.
The dreamlike pedal steel on "Mama's Eyes" plays nicely off his singer/songwriter voice. The lyrics and the lively performance don't dull the thoughtful nature of the song.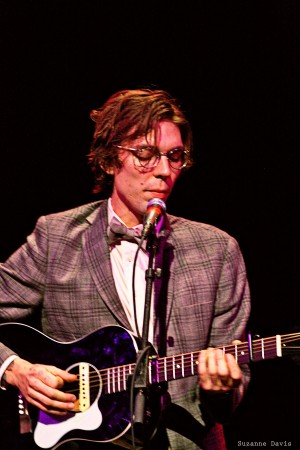 On several tunes, Earle went back to a solo performance. He played "I Been Burning Bad Gasoline" which was a down and dirty blues number. It shows the other side of JT and his appreciation of Lightnin' Hopkins southern style.
Then he came back with "Halfway to Jackson," JT Earle's wheelhouse. This walking blues bluegrass sounded like the Yuma JT Earle that I knew and loved. But JT can't be satisfied and it's both exciting and frustrating at the same time.
While this wasn't a ground-breaking performance and not even my favorite from JT, it truly showed the variety that JT Earle can handle. What true artist doesn't lead his fans? JT Earle had to earn that license but the performance reasserted his power as a songwriter.
Photos by Suzanne Davis McMahon
---
About the author:
Jeff is a teacher in the Boston area. When not buried correcting papers, Jeff can be found plucking various stringed instruments and listening to all types of americana music.
---