Trad bluegrass they ain't. But don't let that turn you off. The boys of Trampled by Turtles can pick  a banjo and make a fiddle whine with the best of em. In person, they were just as lively and rocking as bluegrass instruments can be. Dave Simonette's impassioned vocals and three-part harmonies bring every bit of energy of a rock show. Their version of a breakdown is as fast and furious as it gets.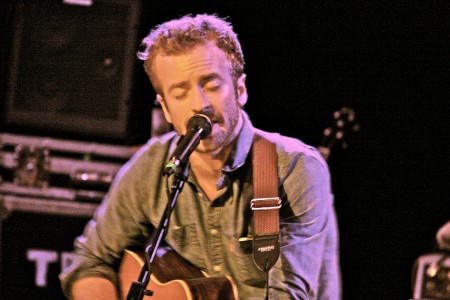 They started the set with an homage to road songs with "Midnight on the Interstate." The layers of picking and fiddle lines added depth to the subtle lyrics. They are simple and affecting. Simonette subtly crooned "Love and love and nothing else / It's all I need." The perfect blend of instrumental music and heartfelt songwriting.
Then the band pushed the metronome up a notch with "Help You." I rarely like songs that have too much harmony (for the verses) but this one had an endearing chant quality live. The band put together a ragged and precise performance at the same time.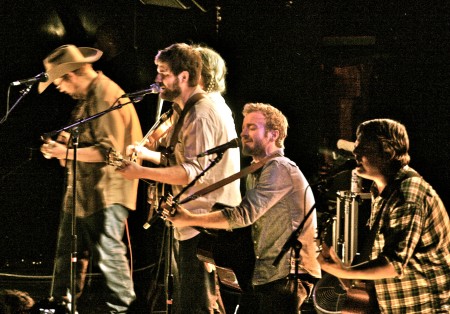 Then they seamlessly went back to the heartbreaking country of "Widower's Heart." The vibrato of the mandolin and fiddle lines played off each other perfectly and Simonette's poignant voice make this one seem authentic. The lyrics are so natural they could be a journal entry.
The night flipped back and forth this way from the heartfelt country numbers to the more aggressive numbers. The harmonies have a rough quality that are endearing. "Codeine" turns into a jam between the instrumental.
Rarely do you hear such a combo of instrumental prowess and songwriting. I found it hard to believe that the turtles had been around for almost ten years with such quality music and I hadn't heard of them. Next thing to do is start stockin' up on their records.
Photos by Suzanne Davis McMahon
---
About the author:
Jeff is a teacher in the Boston area. When not buried correcting papers, Jeff can be found plucking various stringed instruments and listening to all types of americana music.
---