I've been fortunate enough to have attended quite a number of multi-day music festivals over the years, from the Veiled Prophet Fair to the Monterey Jazz Festival and Telluride to Hardly Strictly Bluegrass.  For my money, though, it's really hard to beat the Old Settler's Music Festival.  Held 20 miles or so outside of Austin in mid-April, it has an unparalleled selection of music, a reasonable size crowd, and a solid enough vibe to keep everything together even if the weather turns bad.  This year was no exception, and here are a few of my favorite moments from the 25th annual celebration.
 Eating From the Palm Of His Hand Award.  The last few years Old Settler's has branched out some from its historic focus on Americana, and organizer Jean Spivey has been brilliant at bringing in indie acts that keep things fresh without leaving you scratching your head on the line up.  Local up-and-comers The Blue Hit and Lissie are examples, but better still Saturday night main stage closer Iron and Wine.  But for the sheer number of "I Love You Amos" shouts, the Philadelphia native was no doubt an honorary Texan for at least one Friday night.
 Back To My Roots.  There's always a healthy dose of roots rock at OSMF, and this year was no exception.  James McMurtry blistered the stage Friday night.  Ozark dwellers Ha Ha Tonka did a cover of the Leadbelly song made famous in the 70's by Ram Jam, Black Betty.  Three hours later walking back to my car people were still singing it.  For outright magnetism, though, the prize has to go to The Bottle Rockets, who did a pied piper number on anyone in the common area about dinnertime Saturday night.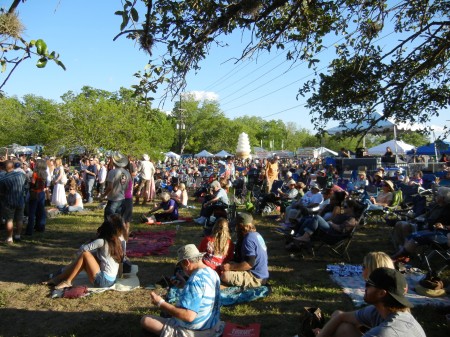 Audience Participation Award.  You have to give kudos to the Steep Canyon Rangers for their campground set on Thursday night.  What had been an engaged, but slightly sedate, audience for the earlier acts was stirred into a frenzy with the traditional bluegrass and awesome picking of the North Carolina quintet.  And their rendition of The Weight, the night after Levon's passing, was clearly the best of the many covers honoring the man done over the weekend.  However, for the second year in a row this award has to go to Gaelic Storm.  They don't just get people singing and dancing, they have people waving their arms, trying to outdo each other shouting, and, last year, riding a donkey (you had to be there).
 Youth Talent.  One of the things that sets OSMF apart from many larger events is the youth talent competition on Saturday morning.  This being Austin, the bar is pretty high, and past winners have gone on to their own recordings and performing with national acts in short order.  This year's winner was fiddle player and singer Kimberly Zielnicki, who got a cheer from the crowd with her comment before the last song of an encore set, "you can never have enough fiddle songs".  Tradition is that Miss Zielnicki will get a slot on the main stage next year, and I'll look forward to seeing her with another year's experience and some notoriety under her belt.
 Best Festival Moment.  This was sort of the year for NPR darling Sarah Jarosz, what with her main stage return playing to a clearly partisan crowd, and her mandolin workshop with Joe Walsh (not that one, the other one) that drew hundreds of people, most of whom have never even picked up the instrument.  For the real feel of the event, though, my vote goes to the kind of impromptu moment that's the heart of a festival, yet witnessed by very few.  Woody Platt and a couple of his Steep Canyon Ranger mates were jamming with mandolin virtuoso Frank Solivan (who turned in a really, really sold set with his band Dirty Kitchen earlier in the evening) behind the bandstand long after the lights were off and most people had gone to their campsite.  The minstrels decided they needed a banjo and so walked over to the car where Frank's banjo player, Mike Munford, was asleep.  They lit into a tune and before they were halfway through, Mike had his instrument out and had joined the fun.  You couldn't help but grin as wide as the band was.
---
About the author:
I've actually driven from Tehatchapee to Tonopah. And I've seen Dallas from a DC-9 at night.
---