"You can't judge a book by its cover" is such a well known saying that it's become cliche.  But I was reminded of it listening to the lastest release from Jim Hanft, entitled Weddings Or Funerals.  The album starts off with Kerosene, that with it's guitar and soft snare sound immediately made me think of a Mark Knopfler effort.  The spell continues with Run My Love and Alternate Route, both featuring Hanft's vocals more than anything, but with a really subtle, tasty, background guitar that layers in a texture you don't really notice until the second or third listening.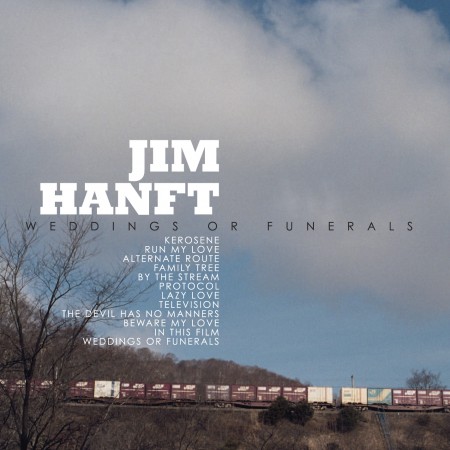 As you keep listening, though, the backing instrumentation starts to pick up other flavors; indie folk on Television, a slighly ominous bass in Family Tree, and a nice slide guitar blues accent on Beware My Love, for example.  I came to realize that well-known Swedish producer Lasse Marten was touching up the palette of Hanft songs with his own brush strokes and colors.  So the cumulative effort is an impressionist interpretation of a scene that everyone sees a little differently.  This really hit home for me when I started checking out Hanft's web site and came across the "social songwriting" blog he does with musical partner Samantha Yonack.  They take whatever topic strikes them and write a song about it, or sometimes it's a cover that presumably crossed their path recently.  My favorite was one they did where they put a camera on the dashboard of their car and while driving one evening sang a song made up of tweets from a friend.
Speaking of Yonack, easily my favorite song on the album is Lazy Love, where her vocals seamlessly slide from background to lead and back along with Hanft's own singing.  The harmonies are just magical.  Yonak's voice adds a rich texture to many of the songs on the record, but nowhere else is she featured.
At the end of the day, Weddings Or Funerals is as much about Hanft's songwriting prowess as anything.  You'll really enjoy the textures and complexities of the songs, but as you listen to the lyrics, and a somewhat fatalistic viewpoint to many of them, you realize you've just peeled off one layer and it will leaving you wanting more.
---
About the author:
Support new music. Listen to a band or singer you've never heard of this week. I've been doing that for over 30 years.
---