Kris Kristofferson famously wrote "freedom's just another word for nothing left to lose".  Although it became an anthem for a certain lifestyle back in the 70's, Kristofferson himself would probably admit life's a little more nuanced than that.  Whether consciously or not, Melody Walker seems to be exploring a lot of those shades of gray in her debut album, Gold Rush Goddess.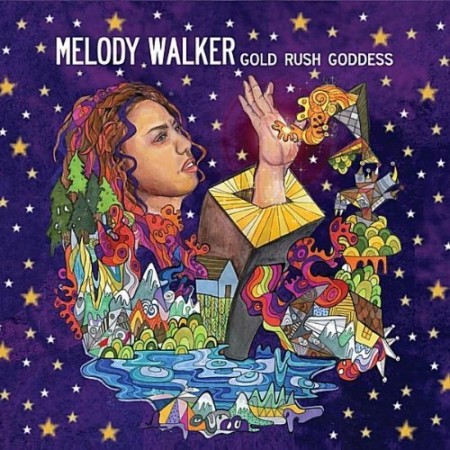 The record starts off with the title track, a sort of feminist viewpoint on being a female in California in the 1850's.  "Just shaking what God gave me, so feel free to stare" probably wasn't the prevailing attitude of the times.  Next up is Family Band, a nice ditty about choosing who you hang with, or at least knowing what you prefer.  There's also the closer, a cover of Blondie's Dreaming, where the protagonist observes wistfully over a cup of tea that "dreaming is free".  My favorite, though, is Do What You Love Blues.  It starts with a gospel-tinged chant that manages to quickly equate life in a cubicle to a modern day chain gang, where Walker later proclaims "life's about freedom, and it ain't cheap".  Amen sister!
Musically, Gold Rush Goddess stretches across a number of genres.  The majority of tunes clearly fall into an indie-grass kind of feel with Melody's vocals, guitars and keyboards matching well to partner Jacob Groopman's harmonies and more-than-solid bass, mandolin and guitar accompaniment.  A couple of songs fall more towards a simple folk arrangement, but in yet another direction Gotta Write Love Songs has a pop sound and hook that could just as easily be Gaga or Adele as an unknown singer-songwriter from San Francisco.
No one can really predict what will catch the attention of an NPR producer or the hipster crowd.  But Melody Walker clearly has the chops to support indie/Americana singer-songwriter stardom.  You can't go wrong checking out her debut album.
---
About the author:
Support new music. Listen to a band or singer you've never heard of this week. I've been doing that for over 30 years.
---