When songwriters sing of "Darlings," I can't help but cringe. I think of the cheesy "darling." You know, that one you picture in your head from a late-stage Clapton or a young Springsteen. The affectionate term could easily refer to this cute female but in"Bringing in the Darlings" the title actually seems like a more apt term for the songs, than the object of affection. They're pleasant, upbeat and more acoustic than Ritter's latest records. They're anything but earth-shattering. Ritter's decision to release the tunes on their own shows that clearly he has a sense that they're more benign. The guitars are of the gentler spanish nylon variety and his singing voice is of the deeper softer tone.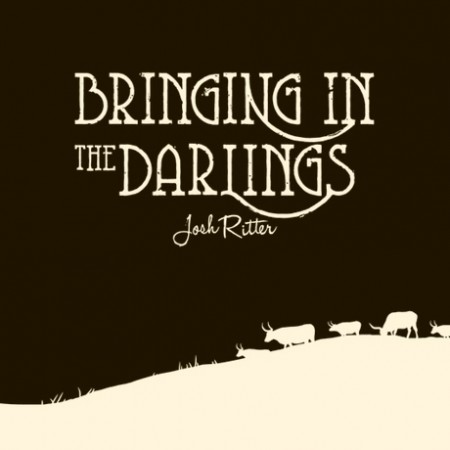 The first tune that really struck me from the record was "Can't Go to Sleep." The final tune on the EP plays like a lullaby. The gently picked solo classical guitar accompanied by Josh Ritter's gentle voice. You feel like he's telling the simplest of stories. He talks of ghosts and how sleep doesn't come. I'll put this one on my playlist when I have my first child.
The leadoff tune "Why" uses a similar simple orchestration. But it employs a bit more humming and vocal harmony. It implores the reader "why spend your only life waiting, to do what you know you can do." Again, another song that is very easily appealing to young and old. It lacks any hard hitting emotions but it's simplicity makes up for it.
"Love is Making Its Way Back Home" has a similar gentle appeal. Great video made by Etsy with lots and lots of construction paper.
Another simple tune, "Darlin'" uses a conversational tone to implore the listener to "let me call you darlin'." With Josh Ritter's effervescent personality, these tunes make the most sense. For a young daughter, Darlin' is a playfully affectionate reference. It shows how moving a seemingly cheesy word can be.
Ritter has managed to put together a group of tunes whose simple tone and instrumentation are daring in how benign and pleasant they are. They are challenging to Ritter's fans and pleasant to non-fans. This is anything but earth shattering but pleasant just the same. Eagerly awaiting the new album just the same but this'll tide me over.
---
About the author:
Jeff is a teacher in the Boston area. When not buried correcting papers, Jeff can be found plucking various stringed instruments and listening to all types of americana music.
---