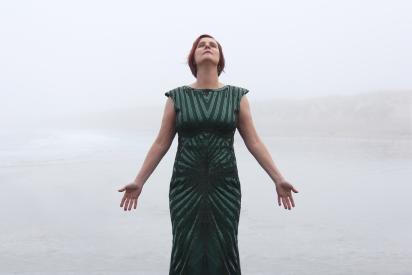 Tell us about your tour vehicle. Any notable breakdown stories?
We did my first US tour in my husband's Ford Mustang. I had just recorded my first solo album, Leaving Me Dry, and had this vision for the cover photograph. I wanted a shot of me standing in the desert, wearing a slip, surrounded by desolation. My husband is a photographer so when we were heading home from Arizona we pulled off the freeway just outside of Blythe to a dry lake bed he knew of. We managed to get a couple of miles down a dirt track which quickly turned sandy. The Mustang with its low profile beached itself. We hiked back to the freeway and called the AAA – who for $500 managed to get a cable and a couple of lengths of chain to the car with a foot to spare! After getting pulled clear we even got the shot and that's the cover of the album.
Touring in Australia is another matter, you've got to dodge kangaroos and rocks from road trains (semi-trailers hauling 2 or 3 trains) on the outback highways. Because of this we do our best to avoid driving at dusk and dawn, as the kangaroos feed by the side of the highway in the early mornings and after sundown. We've had a few close calls swerving to miss a kangaroo bounding across the road. They're not like deer, they don't go in one direction, they pivot and bounce unpredictably – it's a heart stopper whenever it happens!
How do you eat cheaply and/or healthy while on tour?
I'm the snack queen. I buy bags of apples, bananas, any fresh fruit, almonds, and granola bars. Whole Foods, Trader Joe's or any supermarket with nice salads are always good to top up on something healthy. I can't resist a good diner meal, and I really appreciate a home-cooked meal by friends when I'm on the road.
How many strings do you break in a typical year? How much does it cost to replace them?
Being a predominantly acoustic guitarist, it was drummed into me by a bandmate early on that I shouldn't be playing so hard that I break strings. He also said I should regularly change my strings, especially before a big gig. I can't actually remember the last time I broke a string on stage because I always change my strings before they get that tetanus-vibe. I have no idea how much I spend a year on strings – I change them when they need to be changed and that's it. I've got to say though, I love my D'Addario strings – they stay bright and present longer than other brands – and would be very happy to take on a sponsorship if anyone's reading this.
Where do you rehearse?
When I recorded the latest album, You Wanted to be the Shore But Instead You Were the Sea, we were living in a tiny two-bed Californian cottage in Santa Barbara. We built a 'studio' out in our garage intending it to double as my rehearsal space and a place for guests to stay. But I rarely used it for rehearsals. I instead got into the habit of sitting on my front porch to write songs and rehearse for solo shows. I loved sitting there and watching the world go by while I played. I reckon porches are made for playing music.
For band rehearsals we'd get together at Jim Connolly's Piano Kitchen space in Santa Barbara. The Piano Kitchen is a special space that Jim uses to record a live radio show as well, so there's clouds painted on the walls and wacky things hanging from the ceiling, toy pianos and lots of banjos lying around. There's always something crazy happening there. But you know what they say, "What happens in a rehearsal space stays in a rehearsal space."
What was the title and a sample lyric from the first song that you wrote?
I recall I could barely play guitar and I had only learnt three chords, G C and D. But those chords were the key to a magical doorway for me. The first thing I did with this new-found skill was write a song. I can't believe I can even remember this lyric: "Mortar was 15 and already a woman." The song was called "Mortar," as in life was the bricks and she was the mortar. You can tell from the early days I set out to tackle difficult topics (laughs).
Describe your first gig.
I started out in an indie-rock band in the 1990s called Bloom. Our first gig was on a five-band bill at The Chelsea Hotel in Nedlands, Western Australia. I was absolutely terrified as the room was packed. We played way too fast and I couldn't hear myself over the drum kit, but I left that show on a total high! We went to a party at the drummer's place afterwards and stayed up until sunrise. After that I was hooked and even wrote a song about that night called "So Brand New."
What was your last day job? What was your favorite day job?
A couple of years ago I wrote a poem that won a major award in Australia and it re-opened the door to my life as a writer. Through that I was offered a full scholarship to do a Ph.D. in Creative Writing. So, I'm currently playing music and studying. Before that I spent the past ten years working as an ESL teacher, writing tutor, and the coordinator of a college Writing Center in California. I love helping students find a way to say what they need to say. Writing and music are both communicating and creating professions that play with words and sounds. I love that.
How has your music-related income changed over the past 5-10 years? What do you expect it to look like 5-10 years from now?
Music has always been a labor of love for me so I took a chance and released my album in the middle of the pandemic and it went to #1 on the AIR Independent Albums Chart in Australia. We've fortunately managed COVID pretty well here in Australia. Music was only shut down here in Western Australia for a couple of months. We did a sold-out album launch, a tour of the northwest, and still have a couple more festival dates to play before the southern hemisphere summer is done. So, ironically, this year has been one of my best years ever. The album is about to be released in the US so let's see if it repeats its Australian success there. And hopefully we can get out on the road again there too.
What one thing do you know now that you had wished you knew when you started your career in music?
I wish someone had done to me what The Runaways manager did to them early on – line me up with my band, throw shit at me, and hurl abuse while I played until I learnt how to grow a thick skin on stage. It's taken me so long to learn how not to take things personally. Songwriters are sensitive people, our deep empathy and insight are what makes us songwriters, but on the flip side to that, the music world is part of harsh industry. I think learning early on how to not take anything about the business side of music and crowd heckling personally would have helped me immensely.