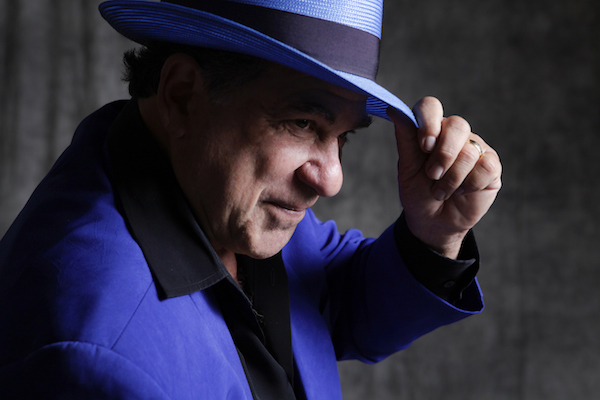 Tell us about your tour vehicle.
These days I fly and rent a car. In the early days I used my 15 passenger Ford Van (which I still have) and a trailer for equipment. The worst thing to happen besides getting broken into a few times, and having the ignition ripped out, while having to make it on a Sunday to the gig was flipping the van and trailer on I-5 in California. My bass player Joe "Roll 'em" Kyle, fell asleep at the wheel and the van rolled and wound up on the other side of the freeway going south. Fortunately and miraculously none of my band was injured. However, the upright bass in the trailer was in splinters and the van was totaled. Don't ask me how, but somehow we managed to get towed and rent a U-Haul and made it to the gig in Seattle!
How do you eat cheaply and/or healthy while on tour?
I went on weight watchers a few years ago, and figured out the best way to eat well on tour was to stop off at a local supermarket and pick up some fresh food. Fruits, cereal, non-fat creamer, and maybe a rotisserie chicken. I stay out of fast food joints!
Where do you rehearse? Any interesting stories about the space?
I had one interesting experience while filming video for my How To Play Boogie Woogie Instructional DVD (Hal Leonard).
They brought in a film crew to Studio D, in Sausalito, CA. where I have recorded many times. Also some big stars like Aretha, Van Morrison, Huey Lewis have recorded there.
After filming I noticed that the crew and setup didn't leave or breakdown. Then a shapely gal came strutting in and started posing by the grand piano I had just played on.
They shuffled me out pretty quick, and I was trying to figure out what the heck was going on. Eventually I spoke to the head engineer who told me they were shooting a porno there. I guess they had the crew and setup and wanted to save some dough!
That was pretty unique, I think!!!
What was the title and a sample lyric from the first song that you wrote?
One of my first songs on my first album Steady Date (1984) on the Blind Pig Label was "Jukebox Drive". I had a 59 Chrysler with push button transmission. I went to try and sell it and the dealer said they called that "Jukebox Drive". I thought that would make a good title for a song!
It is a great 50s style tune featuring a Red Cadillac, flying saucers, a chic in a hot pink sweater.
Every Friday night about 9 pm, he gets the car keys from his old man
It's a Red Cadillac with a whole lotta chrome
His Daddy sure is glad when he gets home
It's got push button drive, right on the side
Describe your first gig.
My first gig was when I was a teenager in N.Y. We had a band called the Sound Factory. The guitarist's father drove us around in a refrigerated meat truck, since he was a butcher or something.
We played the Cafe Bizarre in New York's Greenwich Village. The funny thing about it was, they didn't have a cabaret license so periodically the cops would come by and the management turned off all the lights and electricity, so you had to stop playing. As soon as they left the lights came on and we played. It was about 5 sets, I remember and we made like $25 and all the salami sandwiches we could eat.
What was your last day job? What was your favorite day job?
I am proud to say I have never had a day job. I have been a professional musician for over 40 years. Thank you.
How has your music-related income changed over the past 5-10 years? What do you expect it to look like 5-10 years from now?
My income now centers around festivals. This past year I played more music (blues, Jazz, 50s, Soul) festivals than ever before in my career. I love playing festivals because people come expecting a good time and you always have a great crowd, as opposed to a club or bar where it is hit and miss.
In 5-10 years from now, I expect to be playing more and more festivals around the world. I hope to open up Asia as well in the next few years.
What one thing do you know now that you had wished you knew when you started your career in music?
That the major thing you can hope for is "making a living". Had I known that, I may have thought a little more about it. But, of course I love what I do, and I am thankful that I have been able to "make a living" as a musician for over 40 years.