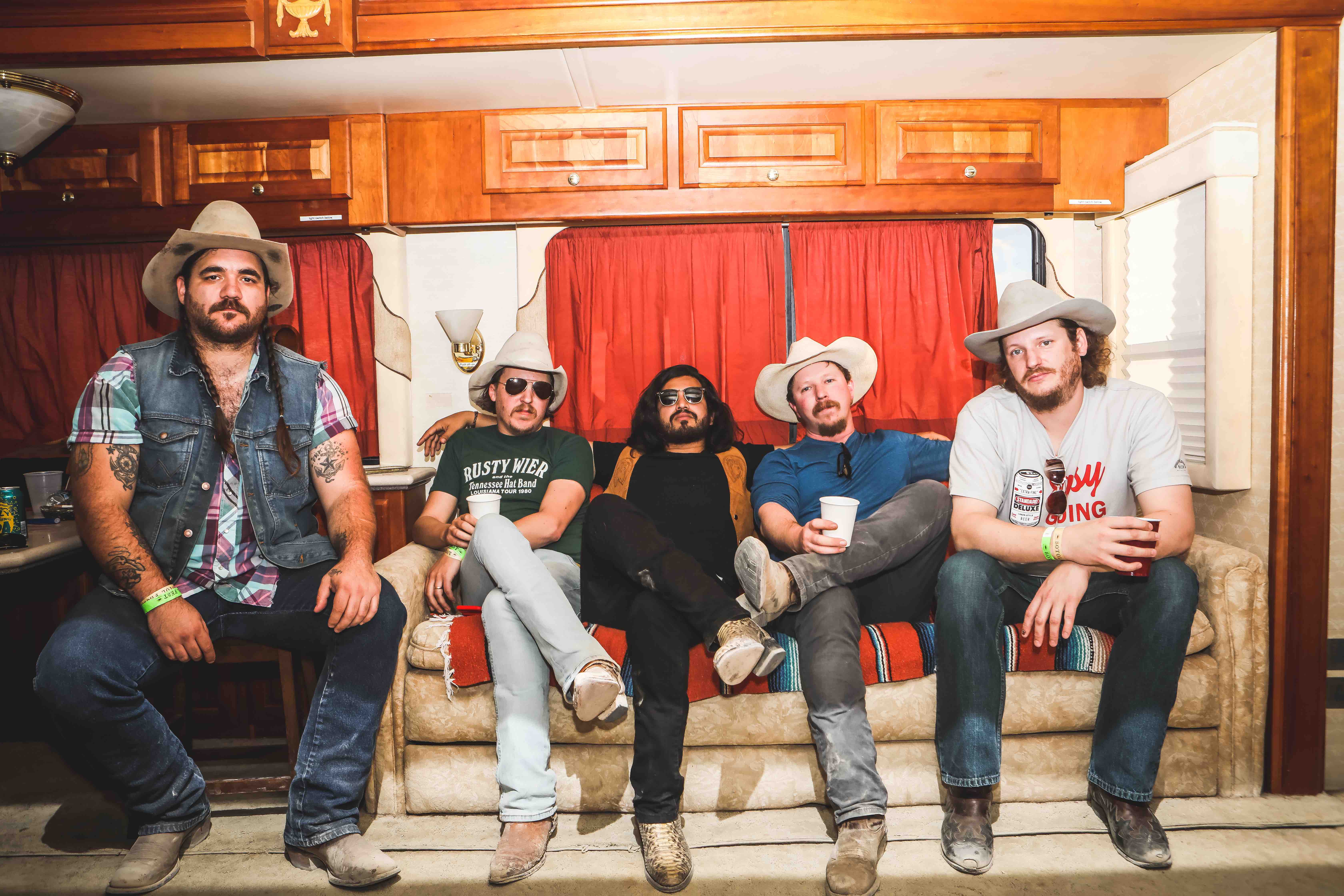 Tell us about your tour vehicle. Any notable breakdown stories?
This year on tour we went from our 2015 Chevy Conversion Van to a Sprinter with bunks to 4 months on a tour bus when we were going super long distances overnight to the next show. We haven't really stopped from the beginning of March until the end of September.
We were having generator issues on the bus heading up to Pickathon in Happy Valley, Oregon, and in the trailer were two of our Harley-Davidsons. For the 6 hours it took for the repair place to get it back and running, we all took turns exploring the northwest Arizona landscape.
How do you eat cheaply and/or healthy while on tour?
It's pretty difficult. When we're on the bus it's easy — we load the fridge. But when we're in the van, we just try to find places that appease everyone. Sometimes, we're just stuck with what the truck stop offers.
How many strings do you break in a typical year? How much does it cost to replace them?
We don't even think about it – we have a guitar vault and tech box in our trailer and just carry cases of strings with us. It's easy for Catlin (Rutherford), Omar (Oyoque), and I when we break a string because we have back-up guitars. Colton King (tour manager) or Adam Odor (producer/manager) can change strings on the fly, but for Zach (Moulton), when it's a rare night he breaks a string on his steel, he has to sit there and change mid show. He's fast enough that I've seen him break a string in the intro and make the change by his first solo break in "Road Crew."
Where do you rehearse?
Our rehearsal place is sound check every night. Since every record is us working out our parts and playing it, everyone just goes home to give themselves a refresher and we just start doing the songs at sound check until we feel comfortable playing them live. When we re-arrange some of our older songs, it's usually just a quick discussion before that night's set.
Describe your first gig.
The song "Steak Night at the Prairie Rose" is pretty autobiographical (until the end). My father would take me on Wednesdays to the Prairie Rose and the band would let me get up and play songs until I started playing there myself on Wednesdays.
What was your last day job? What was your favorite day job?
For over a decade it's been Mike and the Moonpies. The worst job might have been as a maintenance man at an old hotel. Once you see how a hotel is run, you are extremely picky about where you stay.
How has your music-related income changed over the past 5-10 years? What do you expect it to look like 5-10 years from now?
It's hard to say how much it has grown because our overhead has grown, too. We have Colton on the road with us as tour manager/sound; Alexis (Tedford) as our publicist; we have more gear, etc. We took a risk and made an album at Abbey Road with the London Symphony Orchestra without any record label help. Our plan is just to keep growing, making the albums we want to make and tour where we want to. We have two tours lined up in Europe for 2020 and we have a lot of other things up our sleeves.
What one thing do you know now that you had wished you knew when you started your career in music?
I would just reassure my younger self that the risk of doing it all on your own is well-worth the reward.