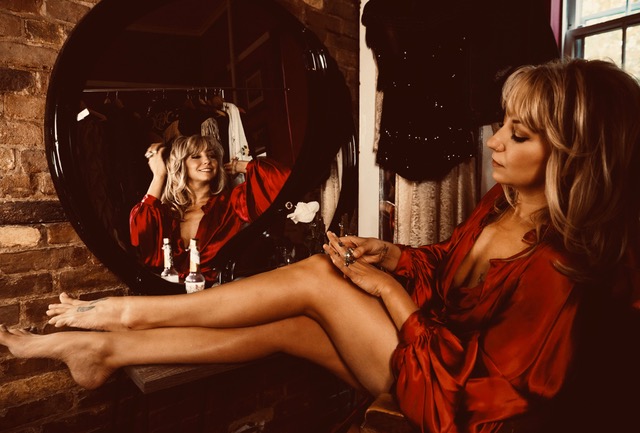 Tell us about your tour vehicle. Any notable breakdown stories?
Oh man. I can't describe just one… I actually do not currently have a tour vehicle. It's a long story, which I'll break down as quickly as I can.
My first one was 1988 Toyota Corolla hatchback I got around 2011. It was actually gifted to me by a fellow musician in NYC. His parents were getting rid of it and just wanted it to go to someone who would use it. This was when I first started playing out on the road, and that car and I went all over the place. It eventually started breaking down in that it would overheat way too easily and just wouldn't start for hours, so that was obviously problematic, as it wasn't reliable. No mechanic could figure out how to fix it, either. It was this mystery. Eventually the engine straight up caught fire one day on Stanton Street while I was sitting in it for alternate side parking. The fire department had to come and everything. It was gnarly. That was the end of Cora Lee (my name for her).
After that, I borrowed my friend Laura's car to take on the road (she was living in NYC, too, and was never using it, and it was a pain to move for alternate side parking each week, so she was happy to let me use it). This was a 1997 Honda Accord with over 200,000 miles on it. While on the road, the engine blew up somewhere in North Carolina. Turns out there was a leak in the oil tank and it had been leaking oil and was completely dry – which was why the engine basically exploded. I felt horrible, but was able to get a new engine from a friend who was mechanic and bought the car off her super cheap. Like $500. That car was the best. I took her all over the country and we had a great run, but unfortunately, she also started having more frequent mechanical issues.
Meanwhile, I also was racking up a ton of parking tickets in NYC, and one day I came out to move it – only to discover it had been towed (not for the first time). The problem was the amount I had to pay to get it back this time around was double what I had paid for her, and after factoring that in with the more frequent car trouble, I just let the city have it. I just didn't have the money and at that point it wasn't worth borrowing it. Needless to say, I'm currently in the market for a new road warrior vehicle. I have a great mechanic who buys broken down cars and fixes them up, and he's got his eye out for a suitable one for me. In the meantime, I rent.
How do you eat cheaply and/or healthy while on tour?
Honestly, I really don't. In that if it's healthy, it's usually not cheap, and vice versa, so I often have to pick one over the other. That being said, if I'm in an area for a few days, and staying with friends (which is often the case, as I'll book several gigs in one area for a week), that's when I go to the grocery store and get staples to make in the kitchen for breakfast and lunch. More often than not, a lot of the places I play feed me, so dinner is usually taken care of.
That being said, I avoid dairy, fried foods, and bread when eating out, cuz it's all more often than not of the processed variety and I do my best to eat whole real foods. Boxed bone broth has been a life saver. I can heat it up in the morning and put in a thermos and it'll sustain me on long drives or when I need nutrition but only have garbage options. I also have dehydrated green juice packets that are equally life-saving to get those greens in.
Speaking of greens, I constantly have to remind myself when ordering a mixed green salad in the South to ask for no cheese and croutons, cuz even if its not listed as an ingredient, shredded orange "cheese" and croutons are always magically appearing on the mixed greens and salads down there.
How many strings do you break in a typical year? How much does it cost to replace them?
Ha! I rarely ever ever break strings. I don't use a pick, and I think that's a huge reason for it (not breaking them). I have to force myself to change them, because I actually like how old strings feel and sound. Everyone thinks I'm crazy for it and it drives my pedal steel player nuts. I probably change strings once or twice a year. I spend almost no money on strings.
Where do you rehearse?
Hmmmmm… It varies. When I'm lucky, I'm able to rehearse with the band at one of the venues that I sometimes work for in the city, and that's amazing – to be able to rehearse in a great venue with full sound, etc. Also, being in NYC, we've packed many bodies into tiny closet-like rehearsal spaces, as well. Like, literally all on top of each other, because the room is the size of a modest walk-in closet.
Since I play solo so much, I play in my apartment a lot, and I've definitely had neighbors knocking on ceilings or floors indicating that I'm being "too loud." That's my signal to dial it back.
What was the title and a sample lyric from the first song that you wrote?
Ha! I remember it very well. It was called "All or Nothin' Girl, Boy." The start of the chorus was something like "I'm an all or nothin' girl, boy/ never been any one's girl toy/ and I never much cared to share what I know to be mine" or something like that. I think it was like 8 minutes long. All my first songs were way too long.
Describe your first gig.
It was at Banjo Jim's in the East Village. It's gone now, but it was over on Avenue C and 9th Street. I would play the open mike there every Saturday. After some time, the person running the mike asked if I wanted to do a showcase – which was like a 30-minute set – on a Tuesday night. I was super excited and nervous. I felt like I had made it, LOL! I was ascending beyond the open mikes and people wanted to hear me! I invited everyone I knew and I played all the songs I had, which was like 4 or 5. I hid in the bathroom beforehand, warming up, because I was so afraid I'd forget the chords and the words, and I didn't want to talk to anyone before, either, because I was too nervous. It was a pass the bucket kind of thing, and I remember I made some money, and I couldn't believe I had actually made money playing music.
What was your last day job? What was your favorite day job?
My last job job was bartending, which I've been doing off and on for years and years now – though I wouldn't call that a day job. I was running music venues/bar managing as well, which was great because of all the live music, of course.
My one and only day job was before I ever started playing music, and it lasted a year. It was at the Lower East Side Tenement Museum on Manhattan's Lower East Side (hence the name). I had started working in the book shop there part time while still in school and was offered a full-time position as the Group Services Representative the summer I finished my program. It basically meant I booked, organized, and coordinated all the private tour and school groups that came through the museum. It was crazy cuz we'd have hundreds of kids coming to visit this tiny little museum at any given day – with all these school buses – and the museum is located on a tiny one-way street downtown with zero parking. It could be chaos if everything wasn't organized just right. I had a great time there. The people were awesome and I really believed in the museum and the mission statement, but it wasn't my passion, so after that year, I got into the service industry so I could have days open to audition. I was an actress before I became a musician, so needed a non-day job early on.
How has your music-related income changed over the past 5-10 years? What do you expect it to look like 5-10 years from now?
It's definitely multiplied tenfold in that ten years ago I wasn't making anything from music – save a pass-the-hat situation here and there – and in the last year (2019), it was the majority of my income. I one hundred percent expect my income to be solely from music in the next 5-10 years, and in a place where I'm not only no longer living hand-to-mouth but in a position to put away money to invest, as well as buy a place of my own rather than rent.
What one thing do you know now that you had wished you knew when you started your career in music?
Start a mailing list! I've played in so many towns across the US, and met SO many people, yet I only recently have begun compiling a mailing list, which is insane to me (that I hadn't started earlier). I always relied on social media and posters in the venue to get the word out, which is fine, but that mailing list is key, and I definitely regret not building it from the get-go.