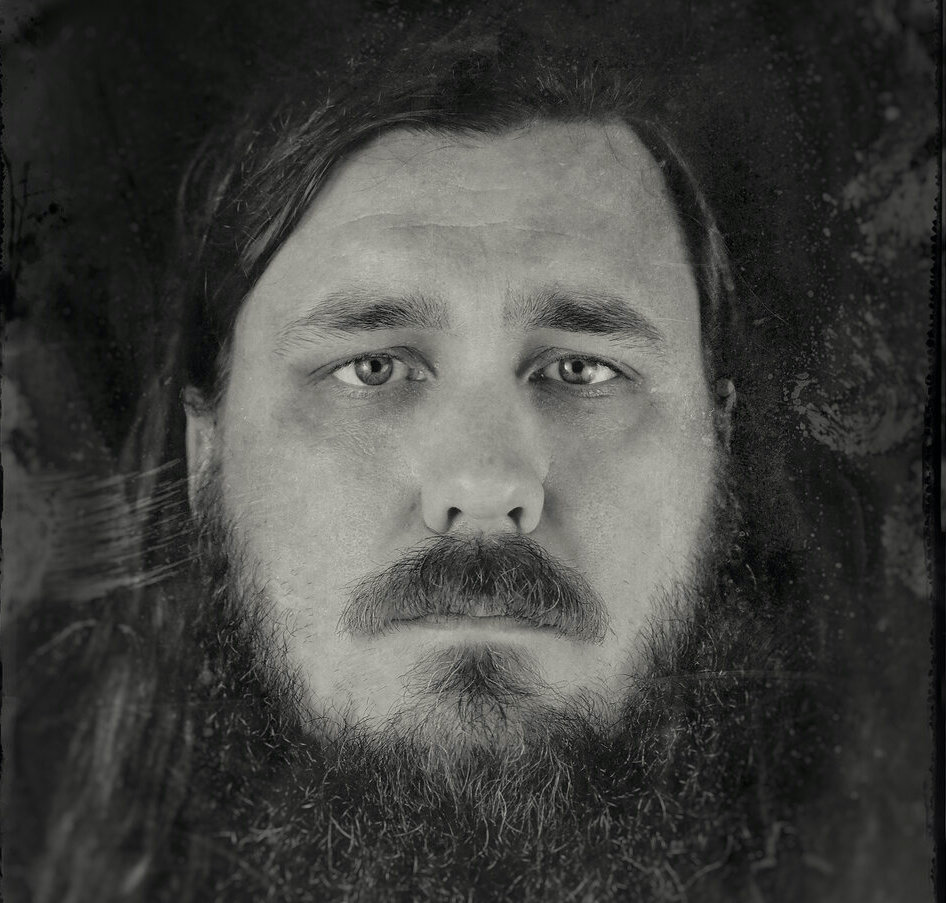 Tell us about your tour vehicle. Any notable breakdown stories?
A bright red Ford E-350, my third touring Ford. This one has Rhino Liner floors. I cannot express how clutch that is, given the scoundrels that tour in it. The last "break-down" we had, we had a tire blow out in the middle of nowhere, Indiana. I get it up off the ground with those shitty jacks that come with the vehicle, only to find that the spare had somehow been deflated. I take to social media, to apologize for the tardiness and for the inevitable sound mix minus a proper soundcheck. Within ten minutes of that post, a fan had delivered a spare (with air), gotten it on, and gotten all four wheels on the ground.
Always check your spare.
How do you eat cheaply and/or healthy while on tour?
It's one or the other, frankly. If it's gas station stops, your best bet is beef jerky, maybe those packaged sliced pickles that are starting to show up more. But better to take the time to eat a proper meal, in a proper local restaurant. It's healthier than fast food, but better than that: you taste the local fare. You're missing out if you're not trying things in the various cities you end up in.
How many strings do you break in a typical year? How much does it cost to replace them?
Next to none, but I put on a fresh set every other show. It can be a drag if you don't spend some time with them before the show (not a fan of the sound of fresh strings), but my instruments take a beating. More than a couple shows, and you can bet I'll pop the G.
Doesn't cost much. Bulk is your friend.
Where do you rehearse?
Unfortunately, I recently lost my rehearsal space of the last few years. Smiley Pete, a publisher here in Lexington, had to downsize and relocate in the midst of this pandemic. They were gracious enough to let me and the fellas rehearse in their large back room.
What was the title and a sample lyric from the first song that you wrote?
I'm not going to count the songs I wrote in the heavy rock high school band I was in, and blame it on misremembering. The first song I wrote that I can truly recall was called "Everything", because the 90's, and the first verse was along the lines of:
I know you
You're lying awake right now
Just what would I do
If you could hear these words right now
Apparently 'now' is the only thing that rhymes with 'now'.
Describe your first gig.
Hard rock kinda band, high school. 1997? 6 bands, varying from very heavy to very heavy but also weird. I had an acoustic guitar for a single song, and a Strat. I change the strings on the Strat earlier in the day, not knowing I should stretch them. We start the first song, I'm at least a full step out of tune. I think we got like 6 songs, so tuning wasn't an option. Played the rest of the gig on an acoustic guitar. Heavy, guitar songs, me playing an acoustic guitar. For shame.
What was your last day job? What was your favorite day job?
My last day job was 12 or so years ago, waiting tables. Realistically, that was probably my favorite as well, given that other jobs included shoveling horse shit on a horse farm, cleaning out rail cars for the railroad, and loading trucks for UPS. But man, I waited tables at a steakhouse that played modern country radio. That's traumatic.
How has your music-related income changed over the past 5-10 years? What do you expect it to look like 5-10 years from now?
It's always been better than the year before. I've made a living off music for over a decade, but it didn't start being a living anybody'd care too much for 'til the last few years. There's no telling what it'll look like in 5-10 years, but I've always felt like if you don't take your fans for granted, if you try to put out the best work you can, they'll be there.
What one thing do you know now that you had wished you knew when you started your career in music?
I took a lot of pride for a long time in doing everything myself. Part of that is a necessity; Lexington ain't Nashville. There's no significant music infrastructure. But man, I never asked for help from folks, never wanted to come off like a stereotype when I was starting out. That's the foolishness of youth. There's plenty of good people that have done what you're doing long before you did, that are happy to tell you what they know. Just ask.