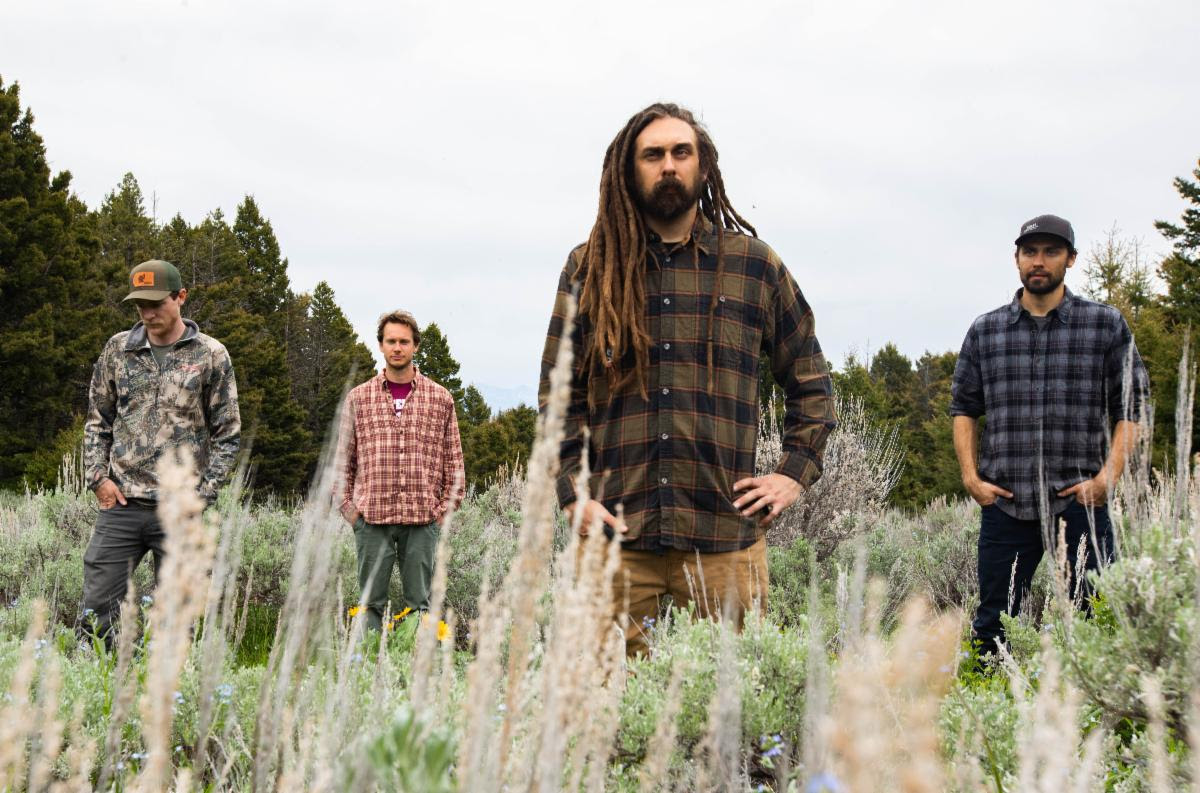 Tell us about your tour vehicle. Any notable breakdown stories?
I'm so glad you asked. We LOVE our precious Vantom Menace, SaVannah, Fartbox, Home… she goes by many names but you get the idea. She's a 2009 Chevrolet Express, 1-ton, 6-liter gasser, tranny destroying, indestructible hunk of steel that we thank every single day from getting us from point A to point B. Well, most of the time. We purchased her in 2013 with 30k miles. Seven years later we're closing in on 350k and not looking back. She's had her fair share of run ins with a wrench. We're on our third transmission, though this one has been going strong for over 100K now. This is our second engine.
A little over a year after buying her, one of the lifters off the cam got stuck sideways in its bore, jamming itself into the engine block. This was in the middle of nowhere Wyoming on a 100* summer day on our way from Colorado to Northwest String Summit in Oregon. The closest shop said it would be a few weeks til they could dig into it so we decided to limp to a dealer in Ogden, Utah where they could do the engine swap. Though it was still driveable, with the permanent block and cam damage the engine was toast. Of course it was only one month past the end of dealer warranty!! These days I (Joe) do most of the minor maintenance/upkeep myself. We change oil every 10-12k miles (with analysis!) which usually works out to be about the length of each tour.
How do you eat cheaply and/or healthy while on tour?
There has been somewhat of a health revolution in the world as of late and that by no means skipped the members of this band. Over the last several years we have all refined our eating habits down to a science based on the schedule every day. Because there are so many factors that go into how our daily meals are planned out, I'll take you through an ideal day on tour. We stay in hotels every night so breakfast is usually provided there. Most often I go for the lower carb, less refined food from the "county" breakfast spread. Depending on the hotel, this typically means scrambled or hard boiled eggs, maybe some sort of meat, and then whole fruit to go. One of my responsibilities in the band is driving, so I like to have a focused and clear mind. To aid in this I will often keep my breakfast in the van (to the disdain of some) til early afternoon and refrain from eating until then. I find this greatly increases my mental clarity and reduces my need for COFFEE. I also like to bring a pre-mixed tub of collagen and powdered MCT oil (among some other supplements) to mix with the hotel coffee. This helps keep me full and focused until I finally eat my warm hard boiled eggs that have been sitting on the center console for 4 hours. No, I definitely don't ever get shit from the rest of the band for that. Definitely not. No way.
Fortunately we get fed by the venue or given a "buyout" to purchase our own meals most nights on tour now. This is something we will never take for granted and is such an important part of the process. We can't thank the venues enough when they provide food as often they are home cooked meals made specifically for the band and crew. Though it's not always healthy, there's almost always ways to make it healthy. And if it's not healthy, it's probably some bomb ass local cuisine that we wouldn't want to miss anyway. Between hotel breakfasts and getting fed by the venues at night, we rarely have to eat out on our own dime which is huge in saving money on the road. Our off days we usually go shopping as a band and make most of our meals from scratch at an Airbnb.
How many strings do you break in a typical year? How much does it cost to replace them?
Me? 1 string, ever. I play upright bass so thankfully I hardly ever break them! The set of strings I like to play is upwards of $5-600, with the B string alone costing $250… not a cheap break when it happens! I've only broken one string in my life, on a very cold night in Montana. The most common string breaker in the band is probably Torrin, but he's at maybe 1 a week now if at all. Everyone else changes their strings just about every show which helps immensely in the breakage department.
Where do you rehearse?
As an acoustic band we are fortunate enough to be able to rehearse wherever we want! Most often rehearsing comes in hotel rooms, green rooms, or sound check. Banjos are loud, so we've had a few noise complaints over the years in hotels…. but at least it's not drums right?
What was the title and a sample lyric from the first song that you wrote?
The first song I wrote in the band is titled "The Crown". If I were to pick one lyric from it it would have to be the hook off the chorus… "Don't run your shit all over this town and expect all 'us to stay". Yeah, I might have been mad at someone. I tell people let that be their Big Mad song. If you're mad about anything, listen to that. F*ck em.
Describe your first gig.
Haufbrau, Bozeman, MT, 2010. Loose times let me tell ya. Fire marshals were called on multiple occasions. We used to pack so many people into that tiny dive bar. None of us, or the patrons were even close to 21 I don't think. Good times.
What was your last day job? What was your favorite day job?
I like to call it my "side gig" – but my current day job is a Structural Engineer at C&H Engineering and Surveying here in Bozeman, MT. I started working for them in 2012 as a college intern, mostly drafting and then progressing to actual engineering. When I graduated from Montana State University with my bachelors in Civil Engineering I started engineering full time which happened to coincide with when the band started touring full time. They've been incredibly lenient and willing to put up with my schedule over the years. The whole "part time engineer" doesn't really exist in today's world, so I feel very fortunate for the opportunities they've given me. It's been a great contrast mentally to the daily grind of the touring life. I think my mind really likes to work in both spectrums and environments and going back and forth helps keep life fresh. I dig it! My favorite day job was probably my state job back in my hometown of Juneau, Alaska, designing docks and harbors for the Southeast panhandle. Traveling throughout Southeast, Alaska via ferry and float plane to the small villages for piling inspections is hard to beat. But, so is traveling the country playing for packed rooms filled with smiling faces. I'm not complaining one bit!
How has your music-related income changed over the past 5-10 years? What do you expect it to look like 5-10 years from now?
Ha. As your business grows, so do your expenses. We have paid ourselves the exact same flat rate from the time we started touring full time, until very recently. Then when we finally felt comfortable enough to give ourselves a raise, what do you know covid hit and we went back down.
Even though the income of the band increased significantly, it has basically all been invested back into the band. The amount of overhead on the daily basis can get staggering. Vehicle (gas and maintenance), crew, merch, management and booking cuts.. the list goes on and when it comes down to it, our profit margin doesn't increase that much. We've had people come up to us and scoff at a ticket price, or merch item, and tell us we should be more generous – or just straight up give them free shit. It's hard to hear stuff like that and not get upset and explain to them where we are coming from. It's a grind out there. We're working from the time we get up to the time we go to bed every single day on tour. And it barely stops when we're home. I've calc'd out the hourly wage and it's not even funny. I don't go there anymore.
The future's looking bright though. We're in this for the long haul and it's been a steady climb since day one. We've never had a huge setback or drop in attendance and we are proud of that. As far as financially, we're in a good place as a business right now and know we can weather a storm or two. Hopefully in 5-10 years we can ease off the grind a bit but that is so far out it's hard to say. I think the grind is often where the magic happens. Thinking back to five years ago I would have never guessed what we would have accomplished by now.
What one thing do you know now that you had wished you knew when you started your career in music?
GET IN EAR MONITORS AND CONTROL YOUR OWN MIX. Seriously. That's it.