Otis Taylor and Corey Harris may be the most creative blues musicians active today. And with Harris spending much of his time exploring other musical avenues, that leaves Taylor pretty much in a class by himself as an avant-garde bluesman.  His moody, atmospheric yet beautiful recordings are a welcome change from the many younger musicians trying to emulate Stevie Ray Vaughan.  He has taken roots music into a strange realm, with complex instrumentation including violin, djembe and sometimes cello.  But it is that willingness to venture out, to experiment with meters and melodic composition that make him an important musician and a great  bluesman.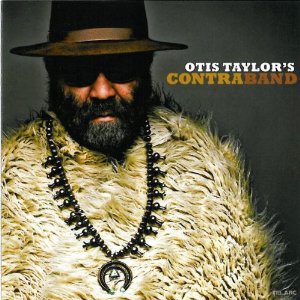 Taylor's career, like his musical style, has been unconventional. He was active in the 1970s but gave up his career to be come an antiques broker for many years until friends convinced him in 1995 to get back into music.  Thus, Taylor is relatively new on the scene despite his years.  After a couple of independently released albums, Blue Eyed Monster in 1997 and When Negroes Walked the Earth in 2000, Taylor produced his early masterpiece with White African in 2001.  Each successive effort has moved a little further away from  traditional blues influences.  On 2007's Definition of a Circle, the tune "Long Long Life" can best be described as a sort of free-form jazz.  In 2008, Taylor produced Recapturing the Banjo, which was a kind of concept album intended to feature the banjo in various African-American music forms from ragtime to rock, thus "recapturing" the instrument that originally came to America with the slave trade from West Africa.  Recapturing the Banjo featured collaborations with several of the best of the next generation of African-American bluesmen, including Harris, Alvin Youngblood Hart, Guy Davis, Don Vappie and Keb' Mo'.
Contraband moves in a direction similar to Taylor's 2010 album, Clovis People, Vol. 3, but with a more consistent musical focus.  It explores rich musical roots, sometimes haunting and otherworldly.  The album features the talents of several of Taylor's regulars, cornet player Ron Miles, keyboardist Brian Juan, violinist Anne Harris, guitarist Jon Paul Johnson, pedal steel player Chuck Campbell, djembe player Fara Tolno, drummer Larry Thompson, and bassists Cassie Taylor (Taylor's daughter) and Chuck Edmunds.  But Taylor also incorporates the services of a full gospel choir on several of the numbers, such as the opener, "The Devil's Gonna Lie."  As always, Taylor takes on serious subjects, including the quandary of slaves captured by the Union Army during the Civil War, who were free yet not free – contraband.  Many of the songs on Contraband, especially "Look to the Side" and "Blind Piano Teacher," are beautiful and spellbinding.   The combination of cornet, choir and electric and pedal steel guitar make a for an equally complex, yet more upbeat recording than Clovis People.   Contraband should stand alongside his early more rustic, White African, as a creative career highlight.       
---
About the author:
Bill Wilcox is a roots music enthusiast recently relocated from the Washington, DC area to Philadelphia, PA and back again.
---