For some artists, just being in one band is not enough. The creative juices run free with these folks and they crave the outlets for release. Put Albert Hammond, Jr. in this category.
Not content with a new release every two to three years with the Strokes, Hammond has just released his second solo album in as many years. Consistency is sometimes a virtue and it is certainly the case here. Hammond's sense of melody shines in arrangements that play it loose and fast.
Twangville is proud to give away a signed vinyl copy of Hammond's new ¿Cómo Te Llama?. To win, post a comment with your favorite moonlighting member of a band. A winner will be selected at random when the contest ends on Thursday, 8/28/08 at midnight ET.**
By entering you will also be automatically subscribed to Hammond's email newsletter to keep tabs on this prolific artist's future adventures.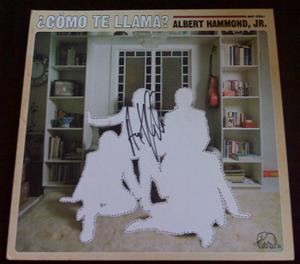 ---
**By participating in Twangville contests you agree to allow Twangville to post the winner's name and city on our web site. We pass along the winning addresses to the artist or promotions company for fulfillment. Twangville will not use your address for any other reason except as noted above.
---
About the author:
Mild-mannered corporate executive by day, excitable Twangville denizen by night.
---