Ever since Ray Charles earned the wrath of the righteous back in the 50's with his corruption of "church music", musicians have been stealing that mix of old fashioned gospel, rhythm and blues, and soul.  Rarely, though, has it come together as well as on the latest Ruthie Foster project, Let It Burn.  Listening to it, I want to just stand here swaying, hands waving above my head.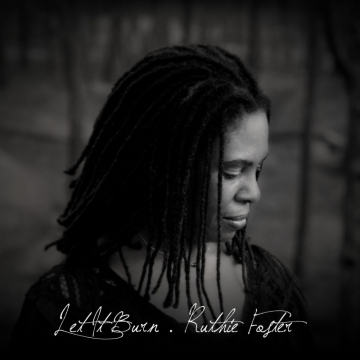 In this case, "project" really does seem to describe the work that went into the album.  It was recorded in New Orleans and her backing band is the rhythm section for The Funky Meters, a New Orleans institution.  Those guys, plus Ike Stubblefield on Hammond B3, create a dirtiness that's more forward than many of Ruthie's other efforts.  But keeping the Lord's music in the balance are the Blind Boys of Alabama, featured on 4 tunes, and soul master William Bell on another one.  The net result is a disc that's about half gospel & blues and half rhythm & soul.  It's a potent mix.
The gospel tinged part of the album manifests itself right from the beginning: Welcome Home is a Foster original with the Blind Boys that's the poetic explanation of faith, "my mind didn't know how to get there, I trusted my heart and, I swear, my soul came to welcome me home."  Other songs in this spirit are Lord Remember Me, the Robbie Robertson number It Makes No Difference, and a fantastic a capella The Titanic, also with the Blind Boys of Alabama.  Good material for your Sunday morning rotation.
The other theme running through the disc is remakes of some familiar songs from other artists.  I hesitate to call them covers because several of them bear little resemblance to the original.  Ring Of Fire is unrecognizable unless you really listen to the lyrics.  There's almost a Motown feel to the Los Lobos penned This Time.  Ruthie puts a dark blues spin on the Pete Seeger classic If I Had A Hammer.  And her version of the CSNY hit Long Time Gone is, IMO, a major improvement on a song that I already loved.
In the end this is a strong offering from an artist that's already at the top of her game.  Ruthie's vocals are great, the backing band is stupendous, and the song selection is great.  I just dare you to sit still for the whole album.  Can I have a Hallelujah?
Start chair dancing with this single, an original number, Aim For the Heart.
Audio Download: Ruthie Foster, "Aim For the Heart"

Audio clip: Adobe Flash Player (version 9 or above) is required to play this audio clip. Download the latest version here. You also need to have JavaScript enabled in your browser.
---
About the author:
I've actually driven from Tehatchapee to Tonopah. And I've seen Dallas from a DC-9 at night.
---