The Allman Brothers, Lynyrd Skynyrd, Shawn Nelson.  What do they have in common?  Anthems about being a free spirit.  You undoubtedly know about Ramblin' Man and Free Bird.  In the case of Shawn Nelson, it's Nobody Got A Hold On Me, the first track on his 4th release, San Juan Street.  Stylistically the song is kind of a mash-up of Ryan Bingham and Old Crow Medicine Show.  But it also has some southern rock roots.  And it's a good harbinger of the material to come on the album.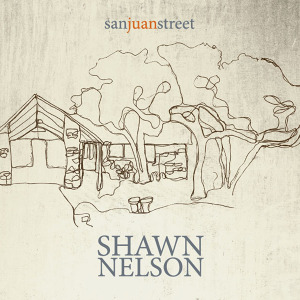 Based in Austin, Nelson has put together a collection of elements in his sound that certainly reflect influences from the area, like the Tex-Mex horns of the hill country that comes through in Dreams In the Desert and the title track.  There are also ingredients from further east, like the Cajun fiddle in Anna Lee or the multiple lead guitar southern ballad of There's Time.  The flexibility of the entire band shows up best, though, in Daydreamers with it's reggae beat and Norteno trumpet part.
San Juan Street isn't just about musicianship and instrumental prowess.  Nelson is honing his singer-songwriter lyric chops much like one of his inspirations, Robert Earl Keen.  The protagonist in many of the songs on this record is the familiar hapless guy who just reacts to his current predicament.  There's the man who loses his wife to the flood in Anna Lee or the pollyanna who sees nothing but happiness ahead "there's no end to me and you" in Daydreamers, but then realizes "that don't bring back them damn old good old days" in the next song, the record's title track.
San Juan Street has something that will appeal to just about any Twangville reader.  Even better, there are some surprises with the horns, the accordion arrangements, and some sweet guitar licks, that have the album really growing on you with subsequent listens.  Currently there's a link on Nelson's web site where you can buy the album for whatever you feel its worth.  How can you go wrong?
Listen to these tracks first: Nobody Got A Hold On Me, Dreams In the Desert, Anna Lee, Daydreamers
---
About the author:
I've actually driven from Tehatchapee to Tonopah. And I've seen Dallas from a DC-9 at night.
---