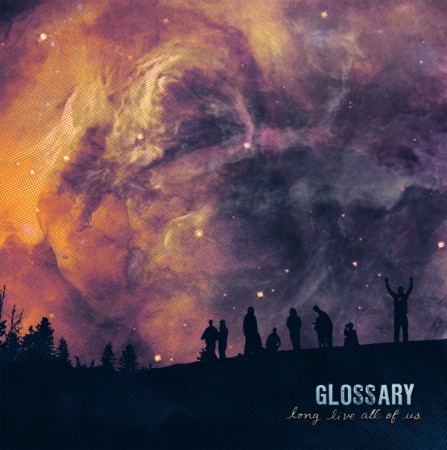 Glossary is a band that I have always defined by their (relatively) more mainstream friends. Lucero, Two Cow Garage, The Hold Steady, the Drive-By Truckers, and Conor Oberst have all praised the band effusively. Despite these endorsements, Glossary has never really broken through to the kind of indie rock-stardom that those friends and mentors have achieved. I'm sure I could hypothesize several semi-credible or half logical reasons for this, but they would just be rationalizations. What I can say is that I have been a fan of the band's patented brand of southern-indie rock for the last couple years now and their back catalog is uniformly impressive. Which makes it odd that upon receiving Glossary's 7th record, Long Live All Of Us, I was initially underwhelmed and almost on the verge of hating it.
The Making of Glossary's 2011 release Long Live All Of Us from This Is American Music on Vimeo.
I can't really explain this reaction, except to say it may have been a timing thing. I popped the CD into my dashboard around 5:45am in the morning during my hour plus Monday morning commute. Needless to say my mood was less than cheery, and so my appreciation of the bouncy opening tracks was minimal. The horns on the second track, "A Shoulder to Cry On," in particular grated on my ears. So I tossed the record aside and found some good depressing music to listen to for the commute (Dwight Yoakam I think). Re-visiting the record on a relaxed Sunday afternoon, I find that Long Live All Of Us is a pretty damn good record and one that I enjoy more and more on repeat listens (even the horns).
The opening "Trouble Won't Last Always" sounds like a soul song, but also manages to recalls The Stones circa Exile On Main Street and Dylan's "Tonight I'll Be Stay Here With You." Twangy guitars, a bright bass, and some double time piano give the song a warmth that is likely a product of the recording environment. The band having, somewhat famously, spent a month recorded Long Live All of Us in a house in rural Tennessee. The house was reportedly sandwiched between a church and a condemned meth lab, check out the videos above). "Cheap Wooden Cross" is another highlight that seems to channel 2000 era Wilco with some killer lines like "I guess nothing has any meaning until you want it to." "When We Were Wicked" is classic Glossary in rock mode, as they send up a glorious ode the rock and roll house show, "don't you wanna feel like we did before/ yeah, when time it didn't matter/ dancing on the porch to the rock and roll/ made you laugh, made you sing/ made you feel like you were someone." The closing "Ghosts in the Vapor" is a fitting end to the record, a slow burning hymn-like song with some eerie pedal steel over a canvass set up by the subtle-rumbling rhythm section.
On the whole, Long Live All Of Us may be Glossary's best record to date and just may cement their status as the best unheralded band in America. Check it out, you won't be disappointed.
RIYL: Exile On Main Street, The Rolling Thunder Revue, Summerteeth, 1372 Overton Park, #1 Record
---
About the author:
Specializes in Dead, Drunk, and Nakedness..... Former College Radio DJ and Current Craft Beer Nerd
---