Forty years. It has been forty years since John Prine released his first, self-titled album, with such classics as "Paradise," "Angel From Montgomery," and "Spanish Pipedream." That first album was one of the few true folk albums included in Rolling Stone's 500 greatest albums (a bogus, arbitrary exercise to boost circulation for sure – but John Prine was on the list in spite of the under-representation of his musical milieu). To commemorate that great first album forty years later, Prine's record company released a compilation of archival material this fall as a sort of "before he was a star" tribute.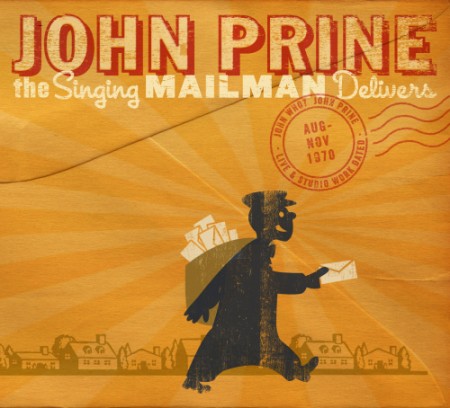 When I first read about the concept of the "new" album, The Singing Mailman Delivers, I assumed this would be strictly for die-hard fans or Prinologists working on their dissertations. The music on both discs was recorded in 1970 – the first in August at a Chicago radio station after Prine was interviewed by Studs Terkel, the other at a live performance in November at the Fifth Peg nightclub in Chicago. Both sets consisted of Prine playing essentially alone (only some bass accompaniment at the live performance), just him and his guitar – much like the fated night in 1971 when he played a sort of impromptu audition for Kris Kristofferson at a closed nightclub after Kristofferson's performance across town. 
The Singing Mailman recordings were made while Prine was still working his day job as a letter carrier.  Many of Prine's classic songs are included in these recordings.  Some of the best songs that punctuated his first five albums are here – "Paradise," "Hello In There," "Souvenirs," and even "Aw Heck," which didn't appear on a studio album until Bruised Orange in 1978.  His song delivery was straightforward and unadorned, but his talent at age 23 was obvious.  Already his connection to the audience was evident in the live performance, as the audience sang along with "Your Flag Decal Won't Get You Into Heaven Anymore" and "Illegal Smile."  This compilation, although unlikely to top the Billboard 100, is not just a redundant recording of interest only to die-hard fans.  The songs are so good, and the delivery so true, these recordings could actually serve as a decent entry-point for new Prine fans – although in the age of Lady Gaga it may be wishful thinking to believe that this compilation would inspire many converts.  Prine fans and other roots music enthusiasts will appreciate the recordings though.     
If Mark Twain was a singer-songwriter, he would have sounded something like John Prine.  The Singing Mailman Delivers provides a portrait of the artist as a young man that is definitely worth the listen.
---
About the author:
Bill Wilcox is a roots music enthusiast recently relocated from the Washington, DC area to Philadelphia, PA and back again.
---