The hands-down highlight of the Conference was the annual Americana Music Awards. In this instance, the words for such a magical evening are hard to come by.
Set aside any the speeches and performances, the event was held in the legendary Ryman Auditorium. Originally built for religious revivalist meetings, it achieved great fame as the original home of the Grand Ole Opry and as a revered venue for every great country – and Americana – recording artist.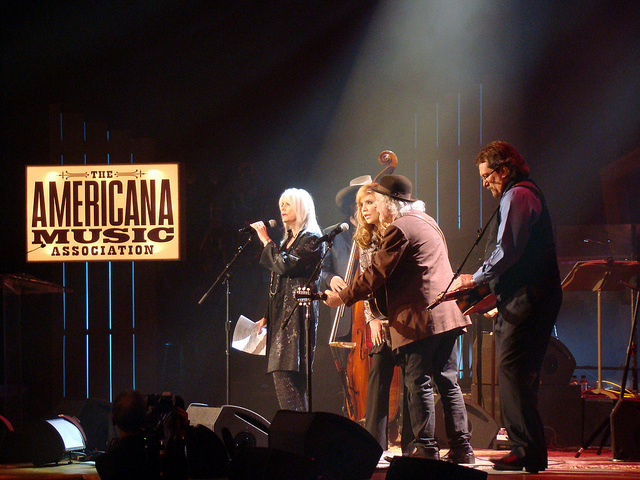 A special location demands a special band, and, in that respect, the Americana Awards didn't disappoint. Led by Buddy Miller, the house band included Don Was on bass, Cody and Luther Dickinson (North Mississippi All-Stars) on drums, guitars and various other instruments, John Deaderick on keys and the masterful Greg Leisz on steel guitar. Adding their special vocal harmonies were The McCrary Sisters: Ann, Regina and Alfreda.
The moments came fast and furious. The show opener was a tribute to the 10th anniversary of the "O Brother Where Art Thou?" soundtrack. Buddy Miller, Jerry Douglas, Don Was, Alison Krauss and Emmylou Harris harmonized beautifully on "I'll Fly Away." Talk about an impressive beginning.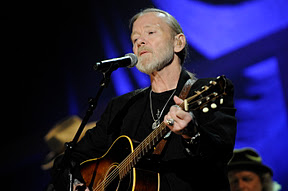 Greg Allman, still recovering from a recent health issue, accepted a Lifetime Achievement Award and performed "Sweet Melissa." Keb Mo, presenting Allman with his award rightfully said, "It's our privilege to honor a man who would be in several Hall of Fames if he never opened his mouth. He's that good with his fingers."
An emotional Lucinda Williams, also Lifetime Achievement Award winner, fittingly performed "Blessed."
Dobro legend Jerry Douglas, known for his storied career as a session musician and band member, was presented with his award by Alison Krauss, with whom he has been performing for more than 12 years. Krauss movingly credited Douglas with revitalizing the band at a pivotal moment.
Others receiving Lifetime Achievement Awards were Bob Harris, a British broadcaster who has long championed Americana artists, and Rick Hall, the producer who helped define the the Muscle Shouls sound. Hall was inducted by R&B Legend Candi Staton, who then serenaded Hall with her hit "Heart on a String."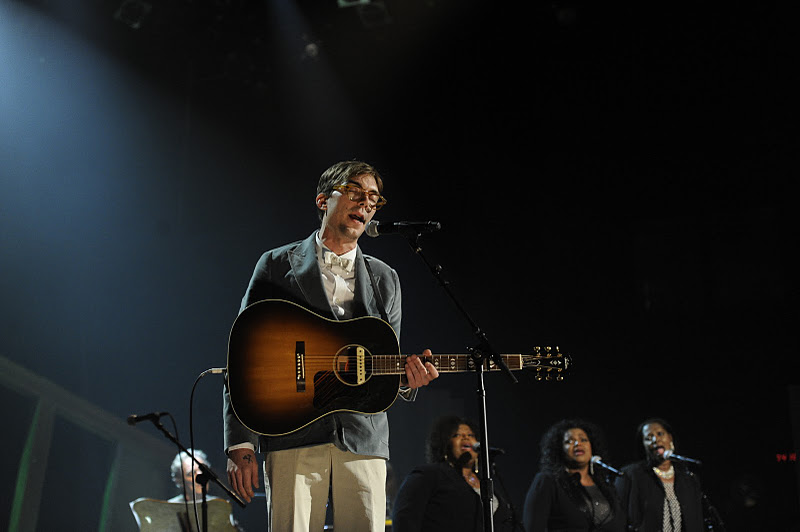 And the 2011 award winners? An impressive bunch. Buddy Miller was perhaps the biggest winner of the evening, humbly accepting the awards for artist and instrumentalist of the year. Miller also joined Robert Plant and his fellow Band of Joy mates in accepting the Album of the Year award and then performing their haunting take on Low's "Monkey."
Justin Townes Earle garnered song of the year for "Harlem River Blues," a song that he said was inspired by a reading of Jim Carroll's "The Basketball Diaries." Mumford & Sons received the Emerging Artist award in abstentia while the Avett Brothers celebrated their Duo/Group of the Year award with a performance of a new song "The Once and Future Carpenter."
So how does one close out a show filled with magical moments? By inviting Allman, Plant and many of the evening's performers to join the house band for a closing take on Allman's "Glory Glory Hallelujah." Hallelujah, indeed.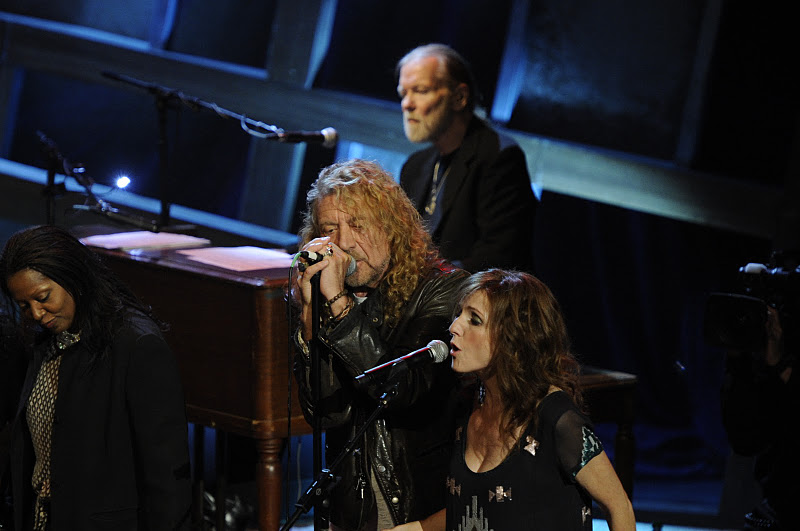 ---
2011 AMERICANA HONORS AND AWARDS RECIPIENTS
ALBUM OF THE YEAR: Band Of Joy, ROBERT PLANT
ARTIST OF THE YEAR: BUDDY MILLER
INSTRUMENTALIST OF THE YEAR: BUDDY MILLER
NEW / EMERGING ARTIST: MUMFORD AND SONS
SONG OF THE YEAR: "Harlem River Blues" by JUSTIN TOWNES EARLE
DUO / GROUP OF THE YEAR: THE AVETT BROTHERS
LIFETIME ACHIEVEMENT AWARD FOR SONGWRITER: LUCINDA WILLIAMS
LIFETIME ACHIEVEMENT AWARD FOR PERFORMANCE: GREGG ALLMAN
LIFETIME ACHIEVEMENT AWARD FOR INSTRUMENTALIST: JERRY DOUGLAS
JACK EMERSON LIFETIME ACHIEVEMENT AWARD FOR EXECUTIVE: RICK HALL
TRAILBLAZER AWARD: BOB HARRIS
---
Photo credits: Emmylou Harris, Alison Krauss, Jerry Douglas, Don Was and Buddy Miller, photo: Jamie Eng; Gregg Allman, photo: Erika Goldring; Justin Townes Earle, photo: Erika Goldring; Robert Plant, Gregg Allman and Patty Griffin, photo: Erika Goldring.

---
About the author:
Mild-mannered corporate executive by day, excitable Twangville denizen by night.
---