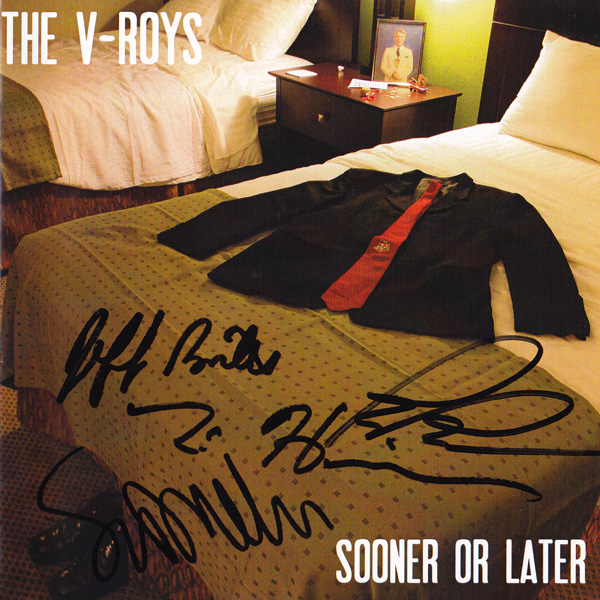 There are some bands that were destined for greatness but somehow got derailed along the way. Unfortunately for all of us, Knoxville, Tennessee's V-Roys fall into that category. Formed in 1994, the band released a scant three albums before bidding farewell in epic fashion with a show on New Year's Eve, 1999.
Fast forward twelve years and the band has just released Sooner or Later, an 18-track compilation. Depending on your point of view, it is hard to imagine a better introduction to or reminder of a band that coulda, shoulda been huge.
These are perfect little pop songs, raised on sour mash and grits. With multiple singer-songwriters, each song had a different personality. Scott Miller could sing about the backwoods of his native West Virginia one minute and a rocker the next, oftentimes with tongue firmly in cheek. Mic Harrison seemed perpetually ready to rock. Throw in the ace rhythm section of bassist Paxton Sellers and and drummer Jeff Bills and this was a band that pulsed with electricity.
And here is the best part. The band is offering one lucky Twangville citizen an autographed copy of this release. To win, post a comment with your favorite artist from the band's home state of Tennessee. A winner will be selected at random when the contest ends on Saturday, 8 October 2011 at midnight ET.**
As a special bonus, here is a track (man, those horns!) plus a vintage live performance video.
Audio Download: The V-Roys, "Amy 88"

Audio clip: Adobe Flash Player (version 9 or above) is required to play this audio clip. Download the latest version here. You also need to have JavaScript enabled in your browser.
---
**By participating in Twangville contests you agree to allow Twangville to post the winner's name and city on our web site. We pass along the winning addresses to the record company or pr agency for fulfillment. Twangville will not use your address for any other reason. Contest open to US and Canadian residents.
---
About the author:
Mild-mannered corporate executive by day, excitable Twangville denizen by night.
---