WWDCFCD.  What Would Death Cab For Cutie Do (or some other indie favorite) if they recorded an album with just bluegrass instruments?  The answer to that question is maybe the latest release from The Dang-It Bobbys, Big Trouble.  It doesn't have a radio-friendly thumping bass, but the idea of a pop song with intelligent lyrics and an appealing sound that's not quite mainstream is all there.  There's also a healthy dose of Americana, so the album manages to straddle a couple of genres.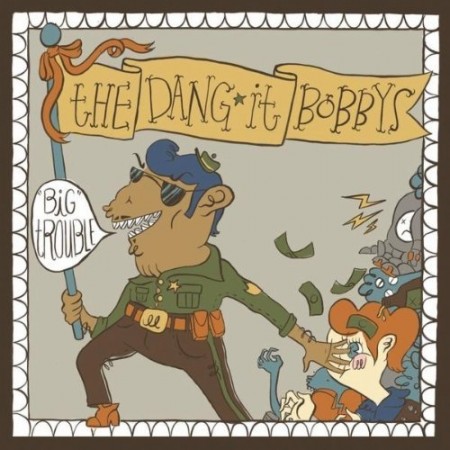 First, there are the indie parts of the record.  The beginning cut, Middle Ground, seems to take the perspective of a no-longer-teenager confronting the idea of growing up and life requiring some compromises.  Heading Out covers the angst and desire to just leave while Planes, Trains, and Automobiles is about the long trip home.  Hey Guess What speaks to the pain and confusion of learning you're adopted.  These are all tunes that would be right at home on a college radio playlist.
The other side, figuratively, of the album is its bluegrass roots.  Whiskey Strut and Roadkill Jerky are excellent bluegrass instrumentals with catchy hooks and finger snapping rhythms that bring to mind a sunny summer day.  Eighteen Years is a fun/sad song about getting laid off that's just as easily a James McMurtry anthem.  But my favorite of the album is the title cut.  It's a story that you just know has to be more truth than fiction about being pulled over by the cops in Mexico.  It's got a Marty Robbins feel and just kind of leaves you happy you're not *that* guy.
Big Trouble is a fun album with a lot of different angles you can listen from.  In many ways it's bluegrass for people who don't like bluegrass.  It has none of the high lonesome sound that's just a bridge too far for some folks.  But it also has enough instrumental highlights to remind you the band has deep roots in all varieties of American music.  This is a ground that was very successfully tilled last year by Mumford and Sons, and I for one would be happy to hear more bands exploring that tact.
Download these tracks first: Big Trouble, Middle Ground, Whiskey Strut
---
About the author:
I've actually driven from Tehatchapee to Tonopah. And I've seen Dallas from a DC-9 at night.
---