Friday night followed my unintentional afternoon trend of mixing old favorites with new sounds. My preference at South-by is to see almost entirely new-to-me bands, especially during official showcases, but there were just too many favorites to stick to my guns on a day like this. Sue me.
In that respect, Friday night truly provided an embarrassment of riches, as it included sets by Chris Mills (who I'm completely in the tank for, and who pleasantly spent the majority of his setlist on songs from his forthcoming –and, by far, most rockin' album yet– Living in the Aftermath); the Cribs (who have been my favorite band since I saw them play the Spin party at South-by two years ago, but whose commanding performance on this night was all but wrecked by the dope behind the soundboard at Stubb's, who ought to be fired for making this great band sound like aural sludge…easily the worst sound of the week); and Watershed (who I had seen as an opening act once some 10 years ago, and very much enjoyed at the time, but it seems that they have become masterful performers in the intervening years, with arena-ready chops and anthemic songs to match).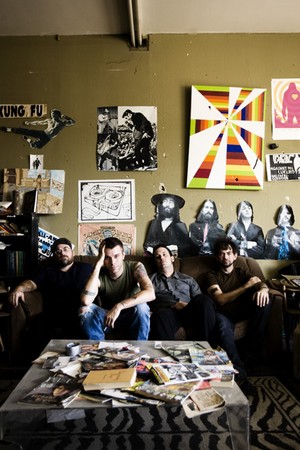 All of that said, and taking nothing away from the other fine bands I saw that night (the aforementioned perennial faves, plusThee Armada and Cloud Cult), Lucero's night-ending show at Red Eyed Fly ended up taking the prize. As with the other favorites mentioned above, I've been a fan of Lucero for some time now (having first seen them at South-by a few years back), and while I've seen them in various states of inebriation, I've never had the pleasure of seeing Ben Nichols, their fearless leader, utterly bombed onstage. Until this night, that is.
It's funny 'cause Nichols walked into the club right behind me and, upon recognizing him, I took the opportunity to ask if they might be adding a D.C. date to their Spring tour (I'd promised my wife, who was home sick with the flu, that I'd ask if I got the chance). And while the answer was "not in the spring, but probably summer," it was the rest of the conversation that proved most prophetic. Nichols went on to say that they'd played a party early in the afternoon and "that was a mistake, 'cause we've been drinking since 1 … so we'll try to be good." I countered that there seemed to be little cause for concern given the various states of drunkenness in which I'd seen the band play –and acquit themselves admirably– in the past. Nichols appreciated the encouragement, but clearly seemed less certain of their abilities on this particular night.
Upon taking the stage a short while later, the first words Nichols uttered were, "SXSW stresses me the fuck out…goddamn." Then the set took off like a rocket with an opening threesome including "That Much Further West," "I Can Get us Out of Here Tonight," and their scorching take on Jawbreaker's "Kiss the Bottle." Three songs later, following a raucous performance of "Tonight Ain't Gonna be Good," Nichols explained to the crowd, "I'm way too drunk to play this … let's play something easy." In response to a shouted request for "All Sewn Up," Nichols agreed, "that's cool," but following a somewhat shambling version, he quipped, "we need to play an easier one, don't we?"
A few songs later in the set, an honest-to-god mosh pit broke out during "Tears Don't Matter Much," which was, admittedly, extremely cool to see at a Lucero show. Following that always-cathartic song was "Drink 'Til We're Gone," after which Nichols helpfully explained, "this is what I play like drunk. Rest of my band? Sober. Me? Hammered."
Nichols went on to apologize, saying that if there were any representatives of influential record labels present, it was all his fault. At which point, one wag in the crowd shouted out, "if you play 'The War,' I'll sign you!" By now, the rest of the band had packed it in, but Nichols was still strapped and, with a wry grin, launched into a solo electric version of the requested song. And he even made it through two full verses before packing it in himself, explaining, "it'd be worse if I played the rest of it … I'm done. I like Austin, but … this is tough on me."
And that concluded the highlight of my Friday night. If you're wondering how such a sloppy, damn-the-torpedoes drunken performance could be the highlight of a night filled with (other) great bands performing soberly and without any handicap … well, have I mentioned that the Replacements are my all-time favorite band?
Check out Lucero's "The Mountain," courtesy of SXSW:
Audio clip: Adobe Flash Player (version 9 or above) is required to play this audio clip. Download the latest version here. You also need to have JavaScript enabled in your browser.
---
About the author:
John Anderson is a SXSW addict, having attended "South-by" every year since 1999. His South-by geekery spilled over into the realm of blogging in 2006, and he is grateful to the Twangville audience for having indulged his South-by ravings since 2008.
---