What is it about Australia and New Zealand? Per capita, they've got some of the most talented and enjoyable musicians in the world. Neil Finn and Tim Finn (from Splitz Enz to Crowded House and the solo stuff in between) to Kasey Chambers to You Am I.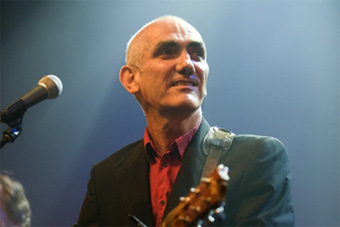 And then there's Paul Kelly. Kelly himself best described his career when he sang, "I'm a legend not a star." Amen to the first, 'tis a shame about the second. The depth of his canon rivals most any artist of the modern era. From blues to folk to country to rock, Kelly can do it all.
What better way to be introduced to this exceptional artist than to win a copy of Songs from the South, a new 2-cd collection of his shoulda-been monster hits.
To win, simply post a comment with the name of your favorite artist from Down Under. A winner will be selected at random when the contest ends on Saturday, 24 September 2011 at midnight ET.**
Additional Twangville coverage of Kelly can be found here. We've also got a couple of mp3s available here.
And if that weren't enough, here is a short collection of Kelly performances, starting with (mostly) acoustic versions of two classics, "Dumb Things" and "How to Make Gravy." Next up are full band performances of "To Her Door" and the brilliant "Deeper Water." We close out with special guest Neil Finn chiming in on Kelly's "Leaps and Bounds" (check those harmonies!).
---
**By participating in Twangville contests you agree to allow Twangville to post the winner's name and city on our web site. We pass along the winning addresses to the record company for fulfillment. Twangville will not use your address for any other reason. Contest open to US and Canadian residents.
---
About the author:
Mild-mannered corporate executive by day, excitable Twangville denizen by night.
---