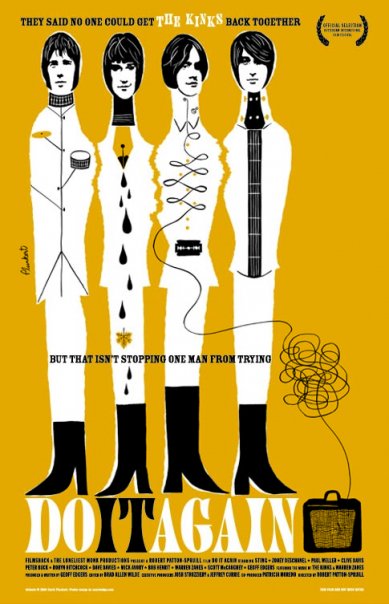 Public television in Boston showed an edited version of Do It Again, a movie about the Kinks, last night. The story revolves around Geoff Edgers, a Boston Globe reporter who sets out on a quest to reunite the legendary British band.
Along the way, Edgers interviews artists ranging from Sting to Peter Buck to Robyn Hitchcock. He even gets several of the artists to perform impromptu Kinks covers.
Check your local listings to see if the film is being shown in your area. I give it two thumbs up — the movie is a potent combination of music and humor.
And if you're feeling generous and are quick with your mouse, you can help support the filmmakers quest for broader distribution and maybe, just maybe, a Kinks reunion. Support their Kickstarter campaign here, but be quick about it as the campaign closes Friday afternoon et.
For more on the film, visit the web site here.
---
About the author:
Mild-mannered corporate executive by day, excitable Twangville denizen by night.
---