The party of the day on Thursday was –as tends to be the case– the mighty
New West soiree at Club DeVille. This was certainly the place to be for the Twangville crew, as all four of our intrepid correspondents posted this invitation-only affair. After all, with a bill featuring likes of the Drams, Old 97's, Buddy Miller, and Tim Easton, how could we not, right?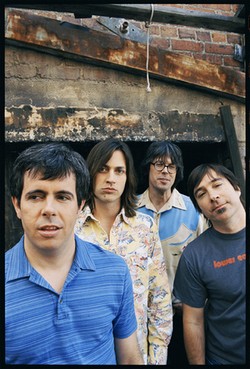 The New West party is always something special, and this year was no exception. Which is great on the one hand, but on the other hand, it sure complicates the process of identifying the highlight of the afternoon. (I mean, you saw that lineup, right??) It's a tough, tough call and my answer might change if I were to write this tomorrow, but I'm going to have to give the edge to Old 97's on this one. Why? Well, how does a 10-song setlist packed with 6 of the songs from their forthcoming platter, Blame it on Gravity, sound?
If you weren't there, you'll have to take it from me (or from one of my Twangville compatriots),their new material sounded mighty fine. From what we heard, I'm now already expecting to be a much bigger fan of the new album than I was of the underwhelming Drag it Up. The show-opener, "No Baby I," was simply fantastic, featuring a gloriously old-school 97's sound. The live version of "Dance with Me" (the only album track that had been leaked that I was aware of) was much improved to my ears in the live setting, so much so that I'd have believed you if you told me it was a Fight Songs outtake. Of the remaining four new songs they played, I was only able to identify titles of three of them, and they were: "She Loves the Sunset," which had a lovely little mariachi sound to it; "The Fool," which leads off the new album and ponders the age-old question of whether one is "a fool to be in love"; and "The One," which is the last song on the new album and was, appropriately, the last song of their set. Blame it on Gravity is released on May 13, but you can hear the first single, "Dance with Me," at the band's MySpace page now.
The New West crowd was also treated to a handful of favorites from earlier 97's albums including, "Won't be Home," "St. Ignatius," Coahulia" (Ken!), and "West Texas Teardrops" (Murry!), making for a delightful mix of old and new songs in the all-too-brief set. But it was the new songs that this longtime fan was most excited to hear.
BONUS HIGHLIGHT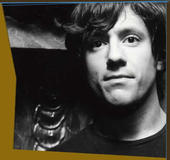 If you'll permit me to cheat a little and name a second afternoon highlight, I've got to give props to an incredibly talented Austin singer-songwriter named Mike Rosenthal who played the Dog and Pony Show party at Opal Divine's earlier in the afternoon. The first (and last, until this day) time I saw Rosenthal was at his South-by showcase in, if memory serves, 2002. I was floored by his songwriting and power pop chops, and every year since then I've hoped for the opportunity to see him again. Finally, this year, there he was on the bill of this unofficial party, and there was no way I was going to miss it.
The 2008 Rosenthal model came across as less of a power pop wunderkind and more of an alt-country singer-songwriter, and it's all good (as the kids say). I was hearing a completely new (to me) batch of songs, many of them from Rosenthal's latest full-length release, Home. Regarding that new album, mid-set, Rosenthal said, "if you like what you hear, we've got our new album here – just take it. It's ridiculous to think I should make any money for this." A few of us in the audience chuckled in appreciation of what seemed to be a witty commentary on the state of a music industry where illegal downloading is all-too often the norm. But no, as it turned out, Rosenthal wasn't being sarcastic … such is his humbleness that he was actually serious, and was truly inviting people to help themselves to copies of his new album! Thankfully, it seemed that in exchange for taking Rosenthal up on his largesse, many attendees were dropping some suitably large bills in the onstage tip jar at the conclusion of his set.
Whether he's flexing his power pop chops or his alt-country leanings, one thing remains constant: Time spent in the company of Rosenthal's songs is like spending time with an old friend. You may not see each other all that often, but there's an undeniable connection, and the pleasure in hanging out together is palpable. Spend some time with Rosenthal's songs at his MySpace page, and I think the odds are strong that you'll agree with me.
---
About the author:
John Anderson is a SXSW addict, having attended "South-by" every year since 1999. His South-by geekery spilled over into the realm of blogging in 2006, and he is grateful to the Twangville audience for having indulged his South-by ravings since 2008.
---