With apologies for the tardiness of the appearance of this, the beginning of my 2008 SXSW highlights reel, we're off to the races now. This post is the first in a nine- (possibly ten-) part series which will be coming your way regularly over the coming days, so please don't be shy about chiming in with your comments on the bands in question! –John
If you're talking to me about "March Madness," you'd better be talking South by Southwest (hereafter referred to as South-by, as it's commonly referred to by regular attendees), the annual bacchanalia of live music that takes place every March in Austin, TX. This year's offering included almost 1,800 bands playing on 68 stages over four nights – and those are just the official events. Regular festival-goers know that you can double your fun (and your musical—as well as your caloric, in the form of free beer—intake) at a host of parties sponsored by various facets of the music industry, from labels to magazines, to clubs, and beyond. This year marked my tenth consecutive trek to rock 'n' roll spring break in Austin, and while it wasn't among the Vintages of the Century for me (those include 2000 and 2006), it was strong indeed, with no shortage of those magical, only-at-South-by moments that keep me coming back year after year.
I should mention that my musical interests range pretty widely, so while you can expect to see some familiar Twangville faves among the highlights I call out in the coming days (Matthew Ryan, Lucero, and Chris Mills to name just three), I'd be remiss in not warning you that I also hope to throw some entirely new sounds your way, because variety isn't just the spice of life, it's most definitely also the spice of South-by.
And so, without further ado, let's kick start my chronological highlights with Wednesday afternoon…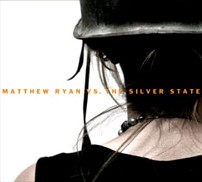 After picking up my badge, I headed straight to the Scoot Inn for the Go Entertainment party to catch Matthew Ryan's 2 p.m. set. I've been a fan of Ryan's music since literally the day his 1997 debut, the criminally out-of-print stone-classic album May Day was released. I'd read an online review which began, "Matthew Ryan sounds like a 25 year-old Bruce Springsteen who grew up listening to Replacements records," and I pretty much started counting down the days until the album's release from that point. It didn't disappoint in the least. In fact, it blew me away, as it presented a songwriter and performer who deserves not only to be compared to Springsteen and Westerberg in terms of influences, but whose astonishing talent demands that he be assessed as being in the same league as those most formidable of songwriters.
So it was no accident that I chose to begin my South-by experience this year with Ryan's day party showcase, especially given that this appearance was the only time he was scheduled to play during the festival. (See what I mean about how special some of these day parties can be?) Insofar as I'm capable of any degree of objectivity in the case of Matthew Ryan (read: very little), I've got to say that this was an absolutely spellbinding performance. Ryan actually went on about 10 minutes early (an extreme rarity at South-by), which meant we were treated to a full hour of performance. Unless you were among the lucky attendees, you'll have to take it from me that during the song performances you could have heard a pin drop amidst the near-capacity Scoot Inn crowd. Between songs, you couldn't hear anything except the applause generated by the completely captivated crowd.
During the course of his 10-song set, Ryan treated the crowd to a song selection focusing on his just-released Matthew Ryan vs. the Silver State album, his previous outing, From a Late Night High Rise, as well as "Cars and History" from his 2005 Strays Don't Sleep side-project with Neilson Hubbard. The new material, some of which was being performed live for the first time outside of Nashville's city limits, is filled with Ryan's trademark piercing insight and devastating turns of phrase.
Ryan played the set solo acoustic, pleasantly devoid of "Dr. Sample," the sampler device he's relied on in the past to augment his sound when playing solo. I've always found such augmentation to be superfluous in his live performances, so it was a pleasure to hear his vocals and guitar au naturel, and blessed by an excellent sound system and a perfect mix. Ryan wryly complimented the soundman early in the set, saying, "thanks for doing such a great job sound-wise … now all I have to do is rise to your level."
Needless to say, the excellence in sound quality was indeed matched by Ryan's sublime performance, a performance which set the bar high straightaway for the remainder of the (dozens of) performances I would be seeing over the next five days and nights.
As the icing on the cake, Ryan gifted grateful attendees with copies of the (at the time) yet-to-be-released Matthew Ryan vs. the Silver State, and as I understand it, attendees at shows on his upcoming spring tour will also receive free copies of the new album. Speaking of the tour, I should point out that despite the fact that Ryan played South-by solo, my understanding is that he'll be accompanied on the tour by his new band, the Silver State of the album's title. This is excellent news as it's been an all too rare pleasure over the years to see Ryan in the role of bandleader and, while he may often present as a singer-songwriter, the man has the soul of a rock 'n' roller.
Mayer was good enough to present "It Could've Been Worse," one of the standout tracks from the new album a few weeks back and, I'd now like to share a cool promotional video that was put together to get the word out on the new album:
The album was released last week, so if you like what you hear and you won't be able to catch Ryan on tour (or if you can't wait, and for what it's worth, I think this is the early front-runner for album of the year), buy yourself a copy from your retailer of choice. Ryan's hitting the road in early May for a string of dates, so check his MySpace page for those dates and see if he's coming to your town!
---
About the author:
John Anderson is a SXSW addict, having attended "South-by" every year since 1999. His South-by geekery spilled over into the realm of blogging in 2006, and he is grateful to the Twangville audience for having indulged his South-by ravings since 2008.
---