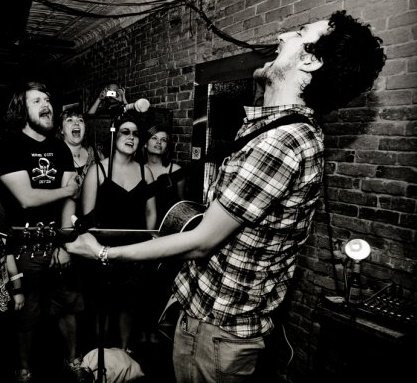 I could say a lot of things about England Keep My Bones. I could tell you it's by a British folk singer named Frank Turner. I could tell you that Frank Turner used to front a post-hardcore band called the Million Dead. I could tell you that Turner's 2008 record Love, Ire & Song has a half dozen songs that will change your life.
I could tell you about how 2009's Poetry of Deed was the first Turner record to feature his backing band The Sleeping Souls. I could tell you how England Keep My Bones is the perfect merger of that full band sound with the brilliant and poignant lyricism of Love, Ire & Song.
I could tell you how fans of artists like The Hold Steady, the Gaslight Anthem, Lucero, and Joe Pug will weep when they hear this record. I could tell you that England Keep My Bones is the best record I've heard this year (yep, sorry Gil and Dave).
I could tell you all that, but instead I'll just ask you to listen.
By Eli Petersen

"I still believe in the need, for guitars and drums and desperate poetry," sings Frank Turner on his impressive new release. Since launching his career as a solo artist six years ago, Turner has steadily emerged as a leading punk troubadour. He marries Billy Bragg's pop sensibility with the Clash's passion for rock and roll, topping it off with the social and political views of both those artists. It is a potent mix that courses through England Keep My Bones. Songs like "If Ever I Stray" and "One Foot Before the Other" crackle with an intense energy while "Wessex Boy" and "Glory Hallelujah" sway like a proper British pub sing-along.
"Now who'd of thought, that after all, something as simple as rock n roll would save us all," Turner proclaims on "I Still Believe." Amen, Brother Turner, amen.
By: Mayer Danzig
I received two records for review around the same time a couple of months ago. They were Frank Turner's England Keep My Bones and Gillian Welch's The Harrow and The Harvest. While I've been a Welch fan for years, I had only recently come to know Turner, seeing him open for Lucero and Social D last year at the Tabernacle in Atlanta. I enjoyed the show and listened to the most recent album out at the time, but didn't think much of it. Fast forward to March or April of this year when Eli (see review above) gave me a copy of Love Ire & Song, released by Turner in 2008. I immediately fell in love and thought the guy was a genius. (Turner, that is…no offense Eli.) So when I saw he had a new album coming out, I was excited and hoped it would have the same catchy tunes as the 2008 effort. Turns out I was right to get excited as this is Turner's strongest effort to date.
The theme of England seems to be just that, the island itself, along with a preponderance of death, how to live your life while here on earth, and an obsession with rivers and/and or water. Actually, I'd be hard pressed to name one of the songs that doesn't mention something dealing with water. There isn't really a bad track on the album but I find my favorites are the sing along anthems of "Peggy Sang the Blues", "I Still Believe" and "If Ever I Stray", along with the clever "One Foot Before the Other" where Turner expresses his wishes to remain on earth long after death, and in a pretty unique way. The next to last track, "Redemption," is the ballad of the bunch where Turner looks at a past relationship and morns, "Darling I miss you/Your music, musk and your kisses" but in the end admits "I don't think I can do this."
I've found that over the years the albums that stick with me the most come at certain crucial points in your life, good or bad, and have a way of staying around. Something tells me this one may become one of those albums. Oh, and I've been listening to the newest Turner for the past two months and have just now gotten around to Welch. Apologies to David and Gillian.
RIYL: Pirate ships and Bob Dylan, Cheap scotch, Mark Twain
By: Todd Mathis
---
About the author:
Specializes in Dead, Drunk, and Nakedness..... Former College Radio DJ and Current Craft Beer Nerd
---