When Buddy Holly died in a tragic plane crash in 1959, the world lost a tremendous musical talent. Only 22, Holly demonstrates a depth of talent rivaled by few in rock history. As important, he inspired generations of rock artists who now return the favor with a wide-ranged tribute to the rock legend.
The sheer breadth of participating artists is remarkable. At one end of the spectrum you've got Rock and Roll Hall of Famers Paul McCartney, Lou Reed and Graham Nash. At the other end of the spectrum you've got indie stalwarts My Morning Jacket and the Black Keys. In between you'll find icons like John Doe and Nick Lowe alongside lesser-known up-and-comers Karen Elson and Jenny O.
Many of the artists are faithful to the original, never a bad thing with songs as good as these. Fiona Apple and Jon Brion play up the harmonies on the tender "Everyday" while She & Him keep up the Crickets rumbling beat on "Oh Boy."
My Morning Jacket soften the strings on and introduce a subdued acoustic guitar solo on "True Love Ways," with singer Jim James ethereal voice perfectly capturing the romance of Holly's beautiful ballad. Justin Townes Earle turns in a similarly impressive vocal turn on "Maybe Baby," with a carefree guitar giving the song a wonderful freshness.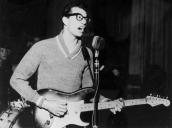 The Holly dance party comes from the trio of the Detroit Cobras, Cee Lo Green and Kid Rock. The Cobras speed up "Heartbeat" to give it a foot-tapping gleeful abandon while Green wraps his soulful vocals around a slightly Carribbean-flavored "You're So Square (Baby I Don't Care), a Leiber-Stoller classic covered by both Holly and Elvis Presley. Kid Rock, known as an increasingly eclectic showman, shines his sights on "Well All Right." Heavy on the hand-claps and built around a healthy dose of horns, it is every much the party that one would expect.
While few of the artists chose to dramatically re-work the songs, John Doe and Florence and the Machine do so with impressive results. Doe takes Holly's previously upbeat "Peggy Sue Got Married" and gives it a dour yet mesmerizing feel. Florence & the Machine give "Not Fade Away" the New Orleans-style voodoo boogie treatment.
All in all, an impressive release that will hopefully call further attention to a rock legend lost way too young.
Click here for Twangville coverage of the 50th Anniversary of plane crash that took the lives of Buddy Holly, The Big Bopper and Richie Valens.
Buddy Holly photo credit: Popperfoto Getty Images
---
About the author:
Mild-mannered corporate executive by day, excitable Twangville denizen by night.
---