Summertime requires some bluegrass on the Most Played list on the iPod of any hard-core Americana fan.  You just can't beat the combination of instrumental jams and light-hearted harmonies with some gin-laced lemonade on a sunny weekend afternoon.  With that in mind, it's good timing for the release of Austin-based The Lost Pines second album, Sweet Honey.  This is pure bluegrass: no fusion of indie folk, no lo-fi regression to old-timey, just a showcase of instrumental picking and fine harmonies.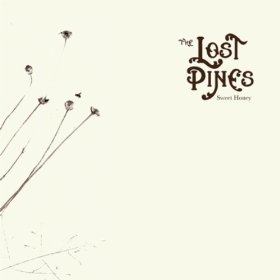 You can drop the figurative needle down on just about any track on the disc and get the kind of flawless solos and interaction that require, no, compel you to start tapping your foot.  The banjo playing of Christian Ward is highlighted throughout, but I found the fiddle and mandolin interaction of Shawn Dean, Jon Kemppainen, and Alex Rueb, on several songs like Big Ol' Pockets and Love Is Made Of Work to be  a real joy.  And the bass of Brian Durkin is a steady, ever-present foundation that by midway through the album has emerged as a key ingredient.  All of that fine instrumental work staying at the right level no doubt owes a debt of gratitude to veteran producer Lloyd Maines.  He clearly knows when less is more on the production front.
On the vocal front, Christian Ward's plaintive voice lends a solemn note to songs like the aforementioned Love Is Made of Work and Only a Flower.  Talia Bryce's sweet and clear vocals provide a lighter counterpoint on tunes like Maybalee and Countryside.  But put all those together with the harmonies of Marc Lionetti and cuts like No Home and Big Ol' Pockets really shine.
In addition to their performance skills, The Lost Pines wrote all their own songs on Sweet Honey.  Add everything up and this is a band with a bright future.  But more importantly, put all my blather and analysis aside and go to the heart of the matter.  Hit play on almost any song on the album and I just dare you to sit still.
---
About the author:
I've actually driven from Tehatchapee to Tonopah. And I've seen Dallas from a DC-9 at night.
---