I'm beginning to think The Band of Heathens are a little bit like Benjamin Button.  Many well-known bands start with critically acclaimed albums, move to spending more time on the road, then abandon studio releases all together to milk their live performances.  The Heathens started as a live-only phenomena and now, with their third release, Top Hat Crown & the Clapmaster's Son, they're clearly hitting their stride in the studio.  Starting as an only-in-Austin group formed as a sort-of house band at Momo's, they quickly gained notoriety nationwide with two of the most acclaimed Americana albums in the past few years.  This latest effort, however, owes as much to New Orleans, though, as it does to the hill country of Texas.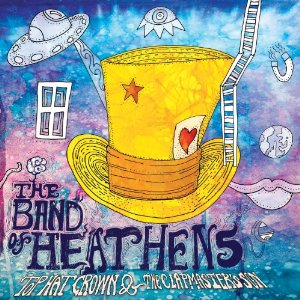 Let's start with Hurricane, a tune about Gulf Coast storms that makes the observation "nobody taught her it takes a lot of water to wash away New Orleans."  There's Free Again, with it's commentary on government ineffectiveness, whether with the Gulf spill or toxic children's dolls.  And finally, my favorite cut on the disc, Gris Gris Satchel, and the voodoo coloring on the finality of death.
I also sense a little more complexity in the songwriting abilities of the group.  Enough explores a life where you have "everything you need but room to grow."  Should Have Known is an aching study in regret and the willingness to try again, even when you know better.  And Gravity, where love becomes a self-fulfilling prophecy that keeps people together.
Overall, Top Hat Crown seems like a natural progression for The Band of Heathens.  It's full of the funky, rootsy music that fans have come to appreciate from the group and so it's familiar and comforting even if it does explore some more political subjects.  For new fans of the group, though, I probably recommend the slightly more raucous One Foot In the Ether.  Either way, don't pass up the chance to see these guys live.
---
About the author:
I've actually driven from Tehatchapee to Tonopah. And I've seen Dallas from a DC-9 at night.
---