I got a bit carried away with the videos, compiling 26 great videos captured live at SXSW. Not surprisingly, we kick things off with the performance that introduced me to Maxim Ludwig & the Santa Fe Seven.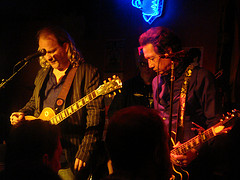 From there, a three-fer from Alejandro Escovedo's special Sunday night gig at the legendary Continental Club. We've got Alejandro's take on the Rolling Stone's "Miss You" (with Charlie Sexton joining on guitar), Jesse Malin's "Burning the Bowery" and Willie Nile's classic "Heaven Help the Lonely."
Non-traditional venues are a SXSW hallmark. Representing here we've got Josh Ritter literally singing his song "In the Dark" in a darkened church. Josh is followed by the Head and the Heart and by Yuck, both performing in Mellow Johnny's Bike Shop. Jack White closes this mini-set out with his parking lot set.
Next up, the indie kids. Sharon Van Etten launches a stellar collection that includes Glasgow's Admiral Fallow, Detroit's Dale Earnhardt Jr Jr and Portland/Washington DC bi-coastal rockers Wild Flag.
Then it is about the rockers. The Jim Jones Review blast through an adrenaline-fueled number, following by J Roddy Walston & the Business, the Stone Foxes, Liam Finn, Prima Donna and Kasey Anderson.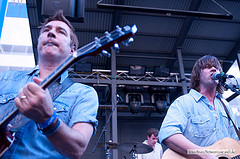 From the blast from the past category, figuratively and literally, we get Men Without Hats ("the Safety Dance"!) and Fitz & the Tantrums. The a few miscellany from Mona and Dave Alvin.
As we near our conclusion, Austin and the state of Texas represent. The Old 97s preview a new track, followed by Jon Dee Graham, both with his own band, the Fighting Cocks, and his new outfit, the Hobarts (featuring Freedy Johnston and Susan Cowsill).
Because I couldn't resist, we close out where we began: with Maxim Ludwig & the Santa Fe Seven.
Whew, now to begin resting up for next year.
---
View more Twangville coverage of SXSW 2011 here.
---
Photo Credits:Sean Phillips (Alejandro Escovedo); Erica Bruce/Between Love and Like (Old 97s).
---
About the author:
Mild-mannered corporate executive by day, excitable Twangville denizen by night.
---