Maxim Ludwig & the Santa Fe Seven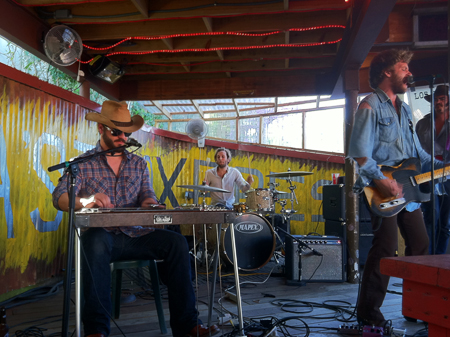 If I were to highlight only one band from SXSW, this would be this one. To say that Ludwig is high energy simply doesn't do him justice. He exudes enthusiasm with a confidence and maturity that belies his age. His songs have a familiar quality to them, a mix of Southern California country-influenced rock and classic Springsteen feel-good rock and roll. Many become smile-inducing sing-alongs, made all the better by the Santa Fe Seven's tremendous harmonies and musicianship.
And in case you were wondering, there aren't seven of them and they aren't from Santa Fe.
Audio Download: Maxim Ludwig and the Santa Fe Seven, "Stacy C'mon"

Audio clip: Adobe Flash Player (version 9 or above) is required to play this audio clip. Download the latest version here. You also need to have JavaScript enabled in your browser.
Leeroy Stagger
Alberta Canada's Leeroy Stagger was a SXSW discovery from a few years back. He rarely tours on the East Coast so I didn't want to miss his return visit this year. He didn't disappoint. Backed by a crack rhythm section, he featured songs from his impressive new release. His songwriting and performances remind me of Steve Earle, a compliment in every sense of the word.
Audio Download: Leeroy Stagger, "Everyone's on Drugs"

Audio clip: Adobe Flash Player (version 9 or above) is required to play this audio clip. Download the latest version here. You also need to have JavaScript enabled in your browser.
See Eli's review of Stagger's latest release here and tales of his 2007 SXSW performance here.
The Head and the Heart
I caught Seattle's The Head and the Heart at a bike shop. It was the perfect venue as the band's spacious melodies reverberated throughout the room. The band uses rich harmonies and diverse instrumentation to create soundscapes that are gently warm and inviting.
Cheap Girls
Lansing, Michigan's Cheap Girls were cursed with the worst sound mix at SXSW. The power trio rocked out nonetheless, delivering a set full of hook-driven grunge-influenced rock that reminded me of Dinosaur Jr. in their prime. Look no further than the opening of the raucous "Ft. Lauderdale" to see for yourself, "I want to be an artist, but right now I'm a waitress livin' in Ft. Lauderdale."
Audio Download: Cheap Girls, "Ft. Lauderdale"

Audio clip: Adobe Flash Player (version 9 or above) is required to play this audio clip. Download the latest version here. You also need to have JavaScript enabled in your browser.
Small Sins
The Toronto popsters helped kick off my Saturday with a high energy set. While their recorded output tends towards more restrained, beat-driven fare, their live show crackled with tremendous energy. Keyboardist/handclapper Kevin Hilliard plays the perfect foil for the more restrained singer-songwriter Thomas D'Arcy. Musically the band layers a 1980's sheen atop a contemporary pop sound.
The Autumn Defense
Simply put, the more that I hear, the more that I like. Moonlighting from Wilco, John Stirratt and Patrick Sansone conjure up intelligent acoustic-based songs with brilliantly restrained harmonies.
Audio Download: The Autumn Defense, "Back of my Mind"

Audio clip: Adobe Flash Player (version 9 or above) is required to play this audio clip. Download the latest version here. You also need to have JavaScript enabled in your browser.
The Stone Foxes
I'd written about the Stone Foxes before but the live show takes it to another level. The band played a furious set, swapping instruments and vocals while playing with a ferocious intensity. Before it was over, band members had made their way into the crowd and up the brick wall that bordered the stage.
Audio Download: The Stone Foxes, "Passenger Train"

Audio clip: Adobe Flash Player (version 9 or above) is required to play this audio clip. Download the latest version here. You also need to have JavaScript enabled in your browser.
Wild Flag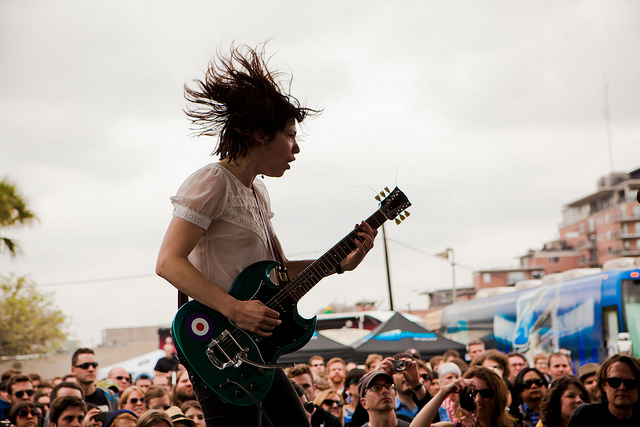 With Carrie Brownstein and Janet Weiss of Sleater-Kinney, Mary Timony of Helium and Rebecca Cole of the Minders, Wild Flag arrived at SXSW without an album but with strong indie rock credentials. And they didn't disappoint. Brownstein and Timony wailed on their guitars while Weiss pounding on the drums with abandon. Cole helped keep the rhythm and added some fine melodic flourishes on keyboard to round out the sound. Put it all together and you've got a top notch group that rocked with abandon. The band departed SXSW with a bigger buzz than when they arrived.
---
View more Twangville coverage of SXSW 2011 here.
---
Photo Credits: Maxim Ludwig photo by no, your product, Wild Flag photo by Kris Krüg – staticphotography.com
---
About the author:
Mild-mannered corporate executive by day, excitable Twangville denizen by night.
---