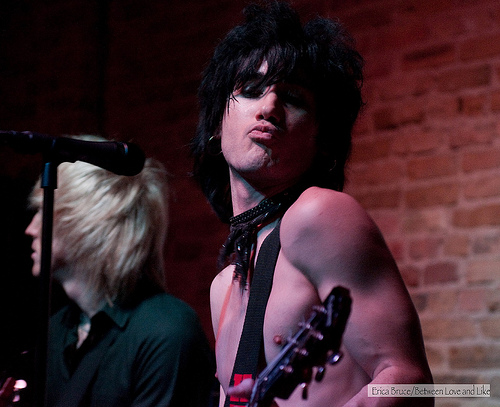 As noted previously in my post in praise of Biters, I dig me some glam rock. In that earlier post, I referenced T. Rex, since Sir Bolan struck me as being the most apt reference point to the band at hand, but I'm also an ardent admirer of take-no-prisoners gutter glam as practiced by the New York Dolls, so when Prima Donna's "Stray Doll" came up in my perusal of the second of this year's SXSW 2011 torrents with its spoken intro reminiscent of the Dolls' "Looking for a Kiss," its swaggering groove influenced by '50s rock but dragged through a '70s gutter, and its prominent saxophone (!), it was L-U-V at first listen. By the time South-by rolled around, I'd listened to the .mp3 enough times to proclaim to friends in advance that, based on this one song alone, Prima Donna was the band I was most looking forward to seeing in Austin this year.
Audio Download: Prima Donna, "Stray Doll"

Audio clip: Adobe Flash Player (version 9 or above) is required to play this audio clip. Download the latest version here. You also need to have JavaScript enabled in your browser.
I'm well aware that expectations of that sort can be a dangerous thing but, as it turned out, I had nothing whatsoever to fear in this case. Did Prima Donna's dedication to Dolls-influenced glam extend to their hairstyles, clothing, and onstage posturing? You bet it did, and it was when I noticed Dolled up band members posing for pictures with excited (female) fans before they had even played a note that I realized the showcase ahead promised to be quite the rock 'n' roll spectacle. And as to the showcase itself, did Prima Donna craft original songs with a spirit, style, swagger, and sexiness of the Dolls in their prime? Oh my, yes. Did the showcase feature a front-of-stage lined two-deep with admiring women who were practically delirious, and fully under the spell of the band throughout the set? Oh, indeed.
Prima Donna's set got underway with my second-favorite quote of the week when frontman Kevin Tyler Preston intoned, "Dearly beloved, we are gathered here today to get through this thing called South by Southwest." The set which followed was chock full of originals guaranteed to put a smile on the face of any fan of glam from virtually any period, from the golden age of Bowie/Mott/T. Rex and the proto-punk glam of the New York Dolls in the '70s to the Sunset Strip glam metal of the '80s. The only exception to the addictive originals that was included in the set was the band's choice cover of Blondie's "Rip Her to Shreds," which I invite you to enjoy now, courtesy of video captured by my friend Jamie:
Incredibly (and admittedly somewhat disappointing for me), given that it was the song they chose to represent them on the official SXSW site (and, consequently, in the torrent), the originals played at Prima Donna's Friday night showcase didn't include the aforementioned "Stray Doll." It did, however, include a number of other choice cuts which I've since come to love, most especially the showstopper, "Soul Stripper." As well, Prima Donna delivered their barnburner of a set with such zeal that their show culminated in that rarity of rarities: the South-by encore.
One thing I know for sure… if you see Prima Donna's live show, by the time it's over, I guarantee that you will walk out the door knowing that, by god, you've just seen a rock 'n' roll band. Odds are good that you'll also be humming a new favorite melody and grinning from ear to ear too, all while still digesting the rock 'n' roll spectacle you just experienced. And that, my friends, is always an exhilarating feeling … and it's no accident that the hunt for that sensation of exhilaration is the primary reason that 2011 was my thirteenth straight year traveling to SXSW for rock 'n' roll spring break.
See you there in 2012?
Twangville gratefully acknowledges Erica Bruce/Between Love & Like for the use of her photo.
---
About the author:
John Anderson is a SXSW addict, having attended "South-by" every year since 1999. His South-by geekery spilled over into the realm of blogging in 2006, and he is grateful to the Twangville audience for having indulged his South-by ravings since 2008.
---