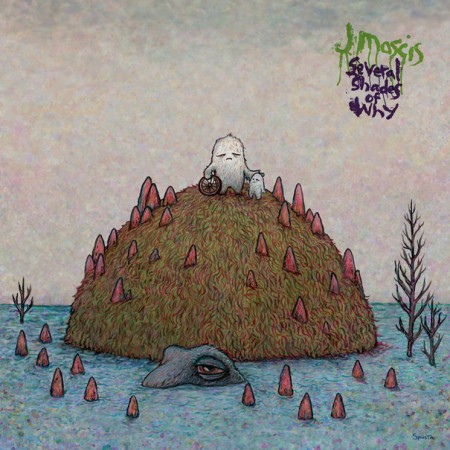 The new album from J. Mascis, Several Shades of Why (Sub Pop), is a thoroughly predictable affair. But wait, that doesnt mean what you may think it does.
It should be of little shock that Mascis' laconic, and iconic, delivery is indeed tailor-made for an album comprised of primarily acoustic arrangements. But, given that Mascis "main project", Dinosaur Jr., has been splitting eardrums for over 20 years, it does manage to not so much shock, but provide a pleasant twist.
Of course, the proceedings do see an appropriate dose of plugged-in fervor, but here, "fervor" is a relative term, especially when it comes to Mascis and his effectively half-awake style of singing that has become his calling card. The electrified elements indeed seem symbiotic with the vocals of the multi-talented project leader, however. Another preidctable aspect is the high-caliber of help Mascis was able to recruit for this record. Who wouldn't want to lend a helping voice or instrument to the record of a man that was likely a hero to them growing up?
Broken Social Scene's Kevin Drew, Band of Horses Ben Bridwell and current blogger-darling, Kurt Vile, all chip-in and absolutely give the record a depth and complexity that wouldnt otherwise exist on your standard lead-man-goes-solo-with-an-acoustic-album offering.
The lyrics are classic Mascis as well. In "Too Deep", a track that mixes in fluttering acoustic strums with the intermittent electrified shredding for accent-purposes only, Mascis sings, "I crawled out, I'll do so much better than last time, I got so much more to my mind." It's said that too much of a good thing is, well, too much. Such is not the case, here. Never let it be said that Mascis has ever had difficulty getting raw while cranking it up or turning it down in a sonically more intimate setting.
Oh, another fact relating to this album that is all-too predictable: This record is really damn good.
---
About the author:
I likes me some wine, women and waffles, not always in that order (but usually). Chaucer is cool, but fart jokes are even better. You feel like spikin' your country with a little soul or mix in a little rock without the roll? Lemme hear from ya!!
---